Prashant V. Joshi, M.A. M.Phil., E-RYT 500, YACEP, C-IAYT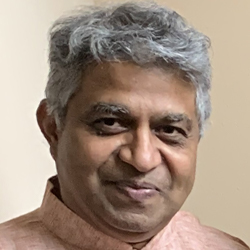 Prashant V. Joshi, M.A. M.Phil., E-RYT 500, YACEP, C-IAYT, is an electrical engineer, computer scientist, Yoga teacher, therapist, and technology/management leader who has served in the US for over the past 25 years.
Prashant has introduced yogic leadership principles to the academic and corporate world at all levels of management. He has brought Yoga to tennis courts, executive boardrooms, mental health facilities, and institutions of all sizes. He is an invited motivational speaker, a published author, and a community servant leader globally. Prashant has co-founded woman-owned social entrepreneurship initiatives, including Gurukul Yoga Holistic Center (GYHC) in 2000 and Food Yogini in 2016, with a vision of simplifying and demystifying life management and creating friends of Yoga (Yoga-Mitra) for harmony, health, and happiness. GYHC has certified over 100 Yoga teachers in 200 and 500-hour training and has initiatives to heal on a global scale.
Prashant is a dad, husband, world-traveler, and sports-buff with a dry sense of humor. He lives with his wife Manju and daughters Veda and Illa in Austin, TX.