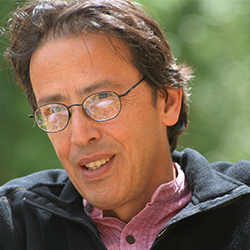 Kambiz spent fifteen years studying with grandmasters of Yoga in India. He is now an international master of breathing meditation and an expert in life transformation through the cleansing of subconscious beliefs. He founded The Joy of Life Organization in 2001, and since he has transformed the lives of more than ten thousand people in Canada, Europe, India, Sri Lanka, and the U.S. His TV interviews appear on NBC and the national television of India. He has conducted programs for the United Nations agencies and taught as a faculty member of The Omega Institute, and the New York Open Center.
Born March 21, 1953 in Tehran, Iran, Kambiz Naficy first visited the U.S in 1962, during the Kennedy era, when his father was assigned to a diplomatic mission in Washington D.C. At this junction of his life, Kambiz became fluent in the English language, in addition to his fluency in the French and Farsi languages. As a young boy, he quickly learned the ways of the West, integrating them with his profound understanding of Persian philosophy and way of life.
Years later, having attended an international school in the Middle East, he completed his undergraduate education in the U.S. and moved on to obtain two graduate degrees, one a Harvard-sponsored MBA, and the second, a Masters in International Studies from Columbia University in New York. Kambiz Naficy is a published poet and obtained his third graduate degree, a Masters in Fine Arts (in poetry), from The New School for Social Research also located in New York City.
After achieving success on Wall Street, Kambiz Naficy set out on his search for the eternal soul which took him to India. During a 15-year expedition to India, Kambiz studied with grandmasters of meditation and Yoga. Kambiz Naficy was initiated into the 1,800-year-old science of Kriya Yoga by Swami Hariharananda who comes from the lineage of Babaji and Paramahansa Yogananda (Autobiography of a Yogi).
While in India, Kambiz delved deeply into the study of the ancient spiritual texts known as the Vedantas and found striking parallels between this ancient knowledge of life and the modern science of quantum physics. Kambiz became determined to develop techniques and teachings to help heal, cleanse, and purify the human psyche and soul through perfect integration of ancient Yoga, modern psychology, and the theories of quantum physics.
Naficy's repertoire of higher education and multi-cultural experiences helps him conduct his meditation and self-development programs. As a Kriya Yoga meditation master, he currently serves the diverse countries of Sri Lanka, India, Sweden, Switzerland, Canada, and the U.S.