John Schumacher, CIYT, C-IAYT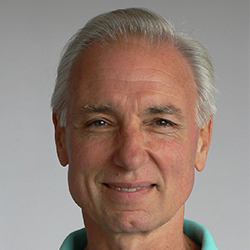 John believes that it is important to explore and learn the actions and effects of Yoga through our own diligent, consistent practice. In 1979, he established Unity Woods Yoga Center outside Washington, DC. He became known for his clear, precise style and his engaging sense of humor. Yoga Journal described John as "one of 25 originals shaping Yoga in America". In 2015, John was named by Yoga Journal as 1 of 12 Lifetime Contributors to help authenticate Yoga in America.
John has written for a variety of publications and has appeared in numerous local and national media, including U.S. News and World Report, The Washington Post, PBS, Yoga Journal, Atlantic Magazine, BBC, and many others. He has spoken about the practice and benefits of yoga on radio and television and at conferences and events around the globe. In over 40 years as a teacher, John has taught thousands of students, including many prominent yoga teachers. He continues to travel across the U.S. and throughout the world, including Europe, Asia, Africa, the Middle East, and the Caribbean. John is a certified Advanced Iyengar Yoga Teacher, one of only 13 teachers in the U.S. to hold that level of certification. He spent 33 years studying with Yogacharya B.K.S. Iyengar and also many years studying with internationally acclaimed teacher Dona Holleman.
See more at Schumacheryoga.com