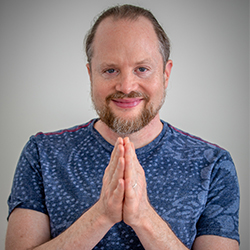 Seán is a Yoga teacher, teacher trainer, and musician who teaches at conferences and retreat centers internationally including Yoga Journal, Kripalu, Bhakti Fest, and The German Yoga Conference. He is the founder of Wild Lotus Yoga in his beloved hometown dubbed "New Orleans' Home for Heart-Centered Yoga," and Soul School, an interdisciplinary online Yoga teacher training program that focuses on teaching Yoga with skill, heart, and imagination that he guides with Mitchel Bleier. He has a master's degree from The Naropa Institute-Oakland with a focus on teaching chant as a spiritual practice. He apprenticed there with south Indian musician and teacher Russill Paul, author of The Yoga Of Sound. He has written for Yoga Journal and is the co-curator and coordinator of Putumayo World Music's Yoga music series. Seán is passionate about his Irish roots and ancestry, a pillar of his spirituality. He co-leads online Celtic Spirituality gatherings and retreats in Ireland each year with his friend, Ireland native Mary Meighan, founder of Celtic Journeys.
In 2005, Seán founded the Wild Lotus Band as a post-Hurricane Katrina philanthropic music project, raising funds across the country for relief from the devastation of the storm. The theme of searching for grace and inspiration amidst challenge and destruction has permeated their music ever since. The ensemble—featuring Alvin Young on six-string fretless bass and electric guitar with percussionist and vocalist Gwendolyn Colman—brings together ancient mantras from the Yoga tradition, sacred chants from spiritual traditions across the globe, conscious lyrics, and roots, rock, gospel, and world grooves. Inclusion on several Putumayo albums has helped propel the band's music to listeners across the globe. Their album Unity, a celebration of the universal threads shared across global spiritual traditions, debuted #1 on the iTunes World Music Chart and #3 on Billboard. They are a favorite headliner at Yoga and conscious music festivals across the country and are the first mantra-based band to ever play The New Orleans Jazz Festival. Their new album Mystery will be released in October 2021.
In all these roles, Seán relishes creating a playful, tender, brave space for people to open their hearts and voices and embrace their innate creativity.
Find out more at: www.WildLotusYoga.com  and www.SeanJohnsonAndTheWildLotusBand.com