Sean Johnson, E-RYT 500 and The Wild Lotus Band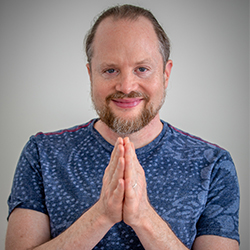 Sean has been teaching Yoga and guiding kirtan for over twenty years. He is the founder of Wild Lotus Yoga studios in his native New Orleans, and Soul School, an interdisciplinary Yoga teacher training program that focuses on teaching Yoga with skill and imagination. He has a master's degree from Naropa Institute- Oakland, with focus on teaching chant as spiritual practice. He has written for Yoga Journal and is the co-curator of Putumayo World Music's music-for-Yoga compilations including Yoga, World Yoga, Yoga Lounge, and Acoustic Yoga.
In 2005, he founded the Wild Lotus Band as a post-Hurricane Katrina philanthropic music project, raising funds across the country for relief from the devastation of the storm. The theme of searching for grace and inspiration amidst challenge and destruction has permeated their music ever since. The ensemble—featuring Alvin Young on six-string fretless bass and electric guitar with percussionist and vocalist Gwendolyn Colman, often joined by an additional guest drummer—brings together ancient mantras from the Yoga tradition, sacred chants from spiritual traditions across the globe, and roots, rock, gospel, and world grooves. Inclusion on several Putumayo albums has helped propel the band's music to listeners across the globe. Their latest album Unity, a celebration of the universal threads shared across global spiritual traditions, debuted #1 on the iTunes World Music Chart and #3 on Billboard. They are a favorite headliner at Yoga and conscious music festivals across the country and are the first kirtan-based band to ever play The New Orleans Jazz Festival.
Sean and the band relish creating a safe, playful, tender space for people to open their hearts, sing, embrace their innate creativity, and remember who they are. Every year they host two 8-day BHAKTImmersions in New Orleans—deep, fun, transformational creativity camps where the practices of Bhakti Yoga and the soul of New Orleans merge to support participants in opening their voices and spreading their heart-wings.
Albums:
Calling The Spirits
Devaloka
Unity
See more about the Wild Lotus Band at SeanJohnsonAndTheWildLotusBand
and Yoga Studio at WildLotusYoga.com
Events with Sean Johnson, E-RYT 500 and The Wild Lotus Band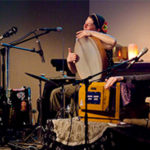 Open Your Heart: A Bhakti Yoga and Creativity Immersion
August 21, 2020
Join critically acclaimed spiritual music artists Sean Johnson and The Wild Lotus Band for a Bhakti Yoga immersion. Sing your heart out, tap into your inner poet, and rejoice in the awakening of your unique voice and creativity during this heart-opening weekend. Are you yearning for creative inspiration that reinvigorates your spirit? This retreat is an invitation to drink from the life-giving well of Bhakti Yoga, the Yoga of the heart. Sean and the band will create a safe and invigorating space for you to: Tune your being with singing meditation, kirtan chanting, song, and dance Explore your own life…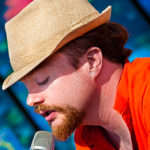 Saturday Concert with Sean Johnson and The Wild Lotus Band
August 22, 2020
Join us for a concert with Sean Johnson and the Wild Lotus Band, one of the guiding voices of kirtan music in the United States. As part of their Bhakti Yoga and Creativity Immersion, Sean Johnson and the Wild Lotus Band will perform a special concert for the Saturday night Satsang. All are welcome. Sean Johnson and The Wild Lotus Band (Alvin Young and Gwendolyn Colman) have been reinventing the Yoga soundtrack and giving new voice to kirtan (chanting of divine sounds) with their dynamic songs and distinctive New Orleans style. Merging ancient mantras with roots, rock, funk, gospel, and…