Saci Murphy, E-RYT 500, Saci has been teaching all levels and branches of Integral Yoga since 2009. Previously, she enjoyed an eclectic career as a professional dancer, teacher, and choreographer for 25 years. She owned and operated a successful performing arts center and ballet company and developed a software company that pioneered interactive multimedia and training programs internationally.
Stepping into the LOTUS temple, the Light Of Truth Universal Shrine at Satchidananda Ashram – Yogaville, was a turning point for Saci. Sri Swami Satchidananda's universal teaching that there is only one Truth within the many spiritual traditions and practices resonated deeply within her. All traditions create in us the opportunity to be present, awake and fully alive.
While living at Satchidananda Ashram–Yogaville, she directed the Living Yoga Training (LYT) residential immersion program, sharing the teachings of Raja, Bhakti, Karma and Jnana Yoga with others. In 2017 she became director of programming at the San Francisco IY Institute. Within the Bay Area, Saci had opportunities to serve those experiencing homelessness in various shelters and communities.
In 2021 Saci relocated to Arizona where she managed the Diamond Mountain Retreat Center, a Buddhist meditation center in the mountains, serving aspirants and the local Native American community.
Today, Saci continues her lighthearted and inspirational teaching at Yogaville and around the US, sharing her love of the practice. Through proper alignment of the body, breath, and movement, she also focuses on the subtle yet powerful practices of chanting, deep relaxation, pranayama, and meditation.
Events with Saci Murphy, E-RYT 500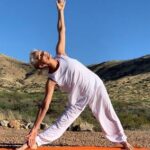 200-hour Integral Yoga Teacher Training – Summer 2024
June 16 - July 14, 2024
Training Yoga teachers for over 50 years. Transforming Yoga students into Yoga teachers for over 50 years, the Integral Yoga Academy offers a seasoned approach to teacher training. With over 200 class hours, the training provides a strong foundation for personal and spiritual development, as well as the skills necessary to become a confident, knowledgeable Yoga instructor. Distinguished by years of personal practice and teaching experience, your teachers will support you as you learn to safely teach each portion of an Integral Yoga Level I class, offer modifications, and hold a nurturing space for your students. Whether you want to…