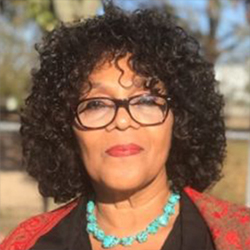 Celebrated as one of America's distinguished Black Yogis by Black Enterprise Magazine, Maya is a preeminent Yoga instructor and practitioner, author, community activist, and consultant with a career spanning over three decades. She is the co-founder of the Black Yoga Teachers Alliance. She is also founder and director of the Santosha School of Yoga where she offers Yoga Alliance registered 200 and 300-hour Yoga teacher certification courses. Maya has been training Yoga teachers since 2001.
In 1998 Maya created the Yoga Retreat for Women of Color and it continues to be offered bi-annually at the Kripalu Center for Yoga & Health, the largest and most established retreat center for Yoga, health, and holistic living in North America. Maya is a member of the Yoga Alliance Standards Review Committee. In 2017 Maya was made an Emeritus Trustee of the Kripalu Center for Yoga & Health. Articles about Maya's work have been featured in many publications including: Black Enterprise Magazine, Yoga Journal Magazine, New England Journal, Kripalu's Experience Guide, and TheGrio.com, The Philadelphia Enquirer, Feministing.com, Upscale Magazine, Heart & Soul Magazine, Pathfinder's, Ebony Magazine, and Essence Magazine. In 2017 Maya contributed to Common Ground Magazine and was featured as a guest on Awakin.org where she shared on the topic, "Listen to Spirit and then Take Action!"
Maya's mission is to empower individuals through teaching the practice and philosophy of Yoga, with an emphasis on utilizing Yoga to renew body, mind and spirit and achieve positive outcomes. In her teachings, she draws upon the astute knowledge and experience of Yogic theory, practices, applications, and philosophy that she acquired while studying at the Lakulish School in Khayavorahan, Gujarat Province, India. She combines traditional forms of Yoga with indigenous methods and a unique, soul-full approach to sharing the ancient practice of Yoga.
See more at mayabreuer.com