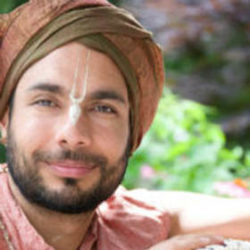 Visvambhar "Vish"  is the lead singer of the internationally acclaimed group 'The Mayapuris', a headlining kirtan group that has rocked stages from India to Florida, Australia to South Africa. Starting from before the age of 5, Vish has spent his life leading kirtans in the ISKCON (Vaisnava) tradition. He is a multi-instrumentalist and a master of the Mridanga drum, and he performs in traditional as well as fusion styles.
Vish started performing in the modern Yoga studio culture in 2007, and since then he has performed at countless studio gatherings, music festivals, and well-known spiritual venues like Bhaktifest, Omega Institute, Wanderlust, Beloved Festival, Floyd Festival, and many others. In addition to being a master percussionist, Vish also plays many instruments—harmonium, bamboo flute, guitar, sitar, and bass.
Vish is an in-demand sideman as well and has toured with kirtan pioneer Jai Uttal. He is also a performing and recording artist with the renowned world-beat ensemble, The Hanumen. Vish has not only mastered his art but has a rare capacity to invoke the 'rasa' or the essence of the transcendental energies that define the kirtan path.