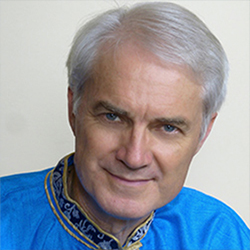 John has been practicing meditation for over 40 years, from pranayama to Tibetan dzogchen. During his studies and explorations he has traveled on pilgrimages around the world, spent lengthy periods of time in retreat at monasteries in Nepal and India, and made pilgrimage to the most sacred mountain of Tibet, Mt. Kailash.
Over the past 25 years John has developed close relationships with and received private instruction from His Holiness Lungtog Tenpai Nyima and Yongdzin Tenzin Namdak, the two most senior teachers of the Tibetan Bön lineage, and Tenzin Wangyal Rinpoche, the most senior Bön master in the West. He has been teaching meditation courses at centers across the United States, Europe and South America since 2001.
He was co-leader for the 3 Doors Academy of Europe, an intensive two and a half year program for gaining deep experience in the Tibetan practices of body, speech, and mind, and currently is the director of the Chamma Ling Retreat Center near Crestone, Colorado. John is also a certified life coach, and creates and mentors courses on LigminchaLearning.com. John was a professor at the University of Virginia for 23 years, won the Dean's Teaching Award, and is known for his warm and easy teaching style.