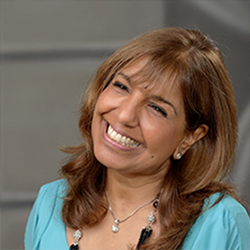 Nalanie is a modern spiritual teacher—a true soul doctor dedicated to selfless service. She was born into the distinguished Indian family, the Harilelas. She grew up in the presence of a close family friend, who, unbeknown at the time, was to have a deep and lasting influence in her life. This frequent visitor and friend was Swami Satchidananda, her beloved Guru.
In March 2008, Nalanie was recognized for "Services to Humanity" in Her Majesty Queen Elizabeth the second New Year's Honours List. In October she also received a Humanitarian Award from Satchidananda Ashram—Yogaville in Virginia, US.
In 2009, Nalanie founded Service in Satchidananda, a non-profit international collective of charities established in honor of Sri Swami Satchidananda and based on his core teaching of selfless service.
Nalanie travels the world to spread a message of wisdom, compassion, and love based on the philosophy of Yoga. Nalanie is the founder of the Integral Yoga Centre Gibraltar and George Harilela Hall in Sotogrande; she gives satsangs there and internationally. Nalanie is registered with British School of Yoga (BSYA) and has taken a two-year Yoga Therapy course with BSYA as well.
See more at www.integralyogagib.com/about-nalanie/