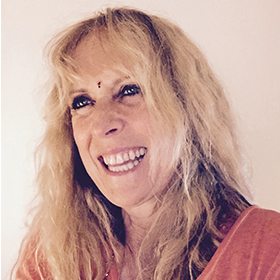 Yogini Kaliji is internationally renowned as a yogini and founder of TriYoga®. Traveling extensively, she has taught TriYoga on a daily basis for over forty years. An excellent orator with deep insight, humor, and giving practical applications, Kaliji has presented 48 keynote addresses at Yoga conferences and other venues worldwide and has been featured widely in the media. She was featured in the book Secrets of the World's Inspirational Women, with photos of the women in the prestigious National Portrait Gallery in London.
Kaliji was born into a path of self inquiry. Her childhood was spent seeking the meaning of life. At age 20, she began to experience kriyavati, the spontaneous awakening of TriYoga. Kaliji, guided by kriyavati siddhi, has systematized asana (posture), pranayama (breathing practices), and dharana (concentration techniques) from Basics to Level 7, and over 1000 hasta mudras (hand gestures) have expressed through her. She has inspired 66 TriYoga Centers and Communities and over 1800 certified teachers in 40 countries.
Inspired by her love for animals, Kaliji has practiced the vegan plant-based lifestyle for more than forty years. She is an advocate for animal rights and founder of S.I.V.A. – Serve International Vegan Awareness. In addition, Kaliji is co-founder of Chant Club®, a music ensemble presenting Sanskrit chants in call-and-response style. She is a vocalist and plays harmonium and keyboard. In 1991, Kaliji founded TriYoga International, a non profit organization.
Kaliji was given the title "Yogini" by H. H. Sri Ganapati Sachchidananda Swamiji of Mysore, India. In 2006, in recognition of Kaliji's global humanitarian service, Sri Swamiji and Datta Peetham honored her with the Vishwa Bandhu award. Vishwa Bandhu translates as friend of the universe, a caring relative of humanity.
Kaliji's presence, her mastery of the flow and the ageless wisdom inherent in TriYoga have inspired and transformed countless lives.
See more at TriYoga.com