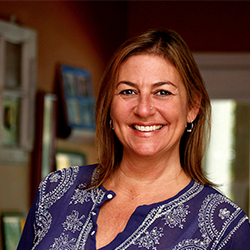 Haris "Harini" is the founder of Kidding Around Yoga, a certified Integral Yoga teacher at the 500-hour level and is also certified in Prenatal, Raja, Children's Yoga, and Stress Management. She lives in Florida with her husband and children and enjoys spending time in her yurt in Yogaville.
During her eleven years of running Camp Yogaville, Haris wrote songs and skits, managed counselors, teachers and kitchen staff, and developed skills that would help her along the way to creating Kidding Around Yoga.
Haris is extremely grateful to her teacher Swami Satchidananda, and to all of the Swamis, friends and teachers at Yogaville that have helped guide her over the years. She is also thankful for her parents, who gave her the insanely creative ability to write songs and invent lots of fun activities for kids and families, her husband, and to all who have helped her create this program. See more at www.kiddingaroundyoga.com.