Robin Carnes, E-RYT 500, MBA, C-IAYT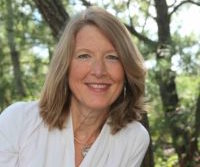 Robin Carnes was hired as a Subject Matter Expert by the Defense Department and Samueli Institute to co-develop a research protocol and serve as lead instructor of the first DOD-funded feasibility study of Yoga Nidra meditation for PTS symptoms in 2005. From 2006 to 2012 Robin served as the Yoga instructor and the iRest® meditation instructor for the Deployment Health Clinical Center's (DHCC) acute Post Traumatic Stress Intensive Outpatient Treatment Program, The Specialized Care Program, at Walter Reed Medical Center. As a member of the SCP's clinical team, Robin worked with military families, individuals suffering from Military Sexual Trauma, and with clinical staff struggling with compassion fatigue.
This work sparked a passion for bringing mind/body healing and the military together in a growing number of ways. Robin is a co-founder of Warriors at Ease, Inc., which trains certified Yoga and meditation teachers in core competencies required to work safely and effectively in military communities affected by combat-related stress. To date, Warriors at Ease has trained over 600 Yoga and meditation teachers across the country.
Robin is also a founding member of the Military Mind Body Health Consortium (MMBHC), a multi-stakeholder organization focused on bringing the power of mind-body healing to military communities and military healthcare. The MMBHC is currently working with the Samueli Institute and other pioneers in the field to find innovative ways to translate mind-body research into programming.
Robin is well recognized as a pioneer and innovator in her field and has been written about in the Washington Post, Woman's Day Magazine, Yoga Journal, and Defense.gov. She has presented at numerous military healthcare conferences. Her work is featured in Amy Weintraub's book, Yoga Skills for Therapists (Norton 2012), and the award-winning documentary film, Escape Fire: Rescuing America's Healthcare System. In 2013, Robin was honored by the Smithsonian Institute for her pioneering work in Yoga and meditation.
Robin started her career as a management consultant and trainer to companies including AT&T, Discovery Channel, and Staples for over a decade. She left the corporate world in 1995. Her book, Sacred Circles: A Guide to Creating Your Own Women's Spirituality Group was published by Harper San Francisco in 1998. Robin pursued her lifelong interest in mind/body healing and went on to be certified as an iRest Yoga Nidra meditation instructor, a Yoga teacher, and a Yoga Therapist. For ten years, Robin launched and managed successful volunteer program at a women's shelter in Washington DC. She has produced three meditation CDs which have helped thousands of people de-stress.
See more at yoganidranow.com and iRest.us
Robin graduated summa cum laude from Keene State College in 1983. In 1985, she attended Harvard Divinity School. For three years she matriculated in the joint Masters in Social Work/Masters in Business Administration program at Boston College. She graduated with honors in 1988 from Boston College Graduate School of Management with an MBA.
Events with Robin Carnes, E-RYT 500, MBA, C-IAYT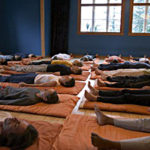 iRest® Personal Practice Immersion
May 18, 2017
Come join us for this iRest Personal Practice Immersion (iPPI), where you will learn the principles and practice of iRest Yoga Nidra Meditation and experience the ways iRest can be used on and off the mat to foster a greater sense of freedom, synchronicity, authenticity, and creativity in your daily life. Through practice and dynamic dialogue you will: Learn the ten steps of iRest Experience body sensing and breath-sensing Form an inner resource of well-being Learn to meet difficult emotions and beliefs skillfully Experiment with playful, improvisational movement, sound, and art activities to reflect on what opens up to you and in…