Robin Carnes, E-RYT 500, C-IAYT, MBA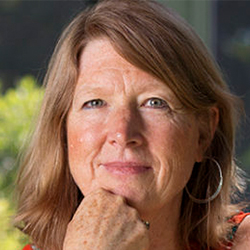 Robin is well recognized as a pioneer and innovator in the field of mind-body therapies for trauma and related conditions. Her work has been featured in The Washington Post, Woman's Day Magazine, Yoga Journal, Army Magazine, The Huffington Post, Defense.gov, and Yoga International. She presents regularly at conferences and lectured at the National Defense University. Robin appears in the award-winning documentary, Escape Fire: The Fight to Rescue America's Healthcare. In 2013, The Smithsonian Institute recognized Robin for bringing Yoga and meditation to military communities.
Since 2012, she has a private Yoga therapy practice, working mainly with civilians who suffer from trauma, anxiety, insomnia, depression, and chronic pain, as well as continuing her work with veterans through the nonprofit she co-founded in 2009, Warriors at Ease. Robin offers many practical skills-based workshops for students and therapists. She also co-leads Soul-Nourishing Retreats for Women in beautiful, natural places around the world with Rosana Azar.
Robin started her career as a management consultant and trainer to companies including AT&T, Discovery Channel, and Staples for over a decade. She left the corporate world in 1995. Her book, Sacred Circles: A Guide to Creating Your Own Women's Spirituality Group, was published by Harper San Francisco in 1998. Robin pursued her lifelong interest in mind-body healing and went on to become certified as an iRest® Yoga nidra meditation instructor and a Yoga teacher. For 10 years, Robin launched and managed a successful volunteer program at a women's shelter in Washington DC. She has produced numerous meditation recordings which have helped thousands of people de-stress and sleep better.
In 2005, Robin was hired as a Subject Matter Expert by the Defense Department and Samueli Institute to assist in the development of a research protocol and serve as lead instructor of the first Defense Department-funded feasibility study of Yoga nidra meditation for PTSD symptoms. From 2006-2012, Robin served as the Yoga and iRest® meditation instructor for the DOD's Deployment Health Clinical Center's (DHCC) acute Post Traumatic Stress Intensive Outpatient Treatment Program, The Specialized Care Program, at Walter Reed Medical Center. As a member of the SCP's clinical team, Robin has worked with military families, individuals suffering from military sexual trauma, and clinical staff struggling with compassion fatigue.
This work sparked a passion for bringing mind-body healing and the military together. Robin is a co-founder of Warriors at Ease, which has trained over 700 certified Yoga and meditation teachers in core competencies required to work safely and effectively in military communities affected by combat-related stress.
Robin graduated summa cum laude from Keene State College in 1983. In 1985, she attended Harvard Divinity School. For three years she matriculated in the joint Masters in Social Work/Masters in Business Administration program at Boston College. She graduated with honors in 1988 from Boston College Graduate School of Management with an MBA. She is a Certified Yoga instructor, a Certified Yoga Therapist, and a Certified iRest® Yoga nidra instructor.
See more at iRest.us and https://robincarnes.com/