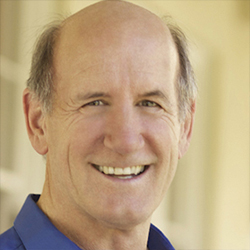 Richard is the author of Yoga Nidra: A Meditative Practice for Deep Relaxation and Healing, is a psychologist and contemporary teacher of nondualism whose teachings emphasize spiritual awakening and psychological integration.
Richard is co-founder of the International Association of Yoga Therapy, the founding president and CEO of the Integrative Restoration Institute, a founding board member of the Institute for Spirituality and Psychology, and a senior advisor to the Baumann Institute, dedicated to understanding the impact of pure awareness on well-being.
Richard serves as a consultant researching the Yoga Nidra protocol that he's developed (Integrative Restoration – iRest) with soldiers, veterans, students, kids, the homeless, and people experiencing issues such as PTSD, substance abuse, sleep disorders, and chronic pain. Richard leads retreats worldwide with a focus on enlightened living in daily life.