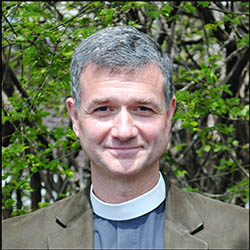 Fletcher Harper, an Episcopal priest, is Executive Director of GreenFaith, an interfaith environmental organization that works with diverse faith communities internationally.  An award-winning spiritual writer and widely-recognized preacher on the environment, he has developed a range of innovative programs to make GreenFaith an international leader in the religious-environmental movement.
A graduate of Princeton University and Union Theological Seminary, Harper served as a parish priest for ten years prior to joining GreenFaith.  He accepted GreenFaith's Many Faith's, one Earth Award from UN Secretary General Ban Ki-moon in 2009 and was named an Ashoka Fellow in 2011.  He is the author of GreenFaith: Mobilizing God's People to Protect the Earth (Abingdon Press, March 2015).
See more at www.GreenFaith.org.