Smt. Padmarani Rasiah Cantu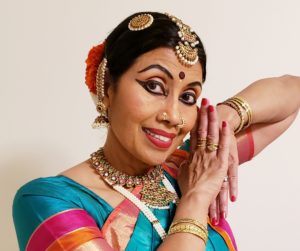 Padmarani, who hails from a distinguished family from Jaffna, Sri Lanka, combines versatility with an international reputation as a dancer and teacher par excellence. She studied with the distinguished Master Teachers Padmasri Adyar K. Lakshman and Padma Bhushan Sri and Smt. Dhananjayan of Chennai, India.  Padmarani has performed extensively in many other countries and in the United States, earning accolades from audiences and critics alike.
Since 1984, Padmarani has been the Artistic Director and Instructor of the Fine Arts Society of Yogaville in Buckingham, Virginia. She has presented many of her students for dance graduation and taught along with the Dhananjayans at the Annual Natyam Gurukulam conducted by the Fine Arts Society from 1989 till 2013.
As a Selected Artist with the Virginia Commission for the Arts Tour Directory since 1991, cultural and educational institutions in Virginia benefit from her expertise in performing and teaching this art form in all it's pure and pristine glory.