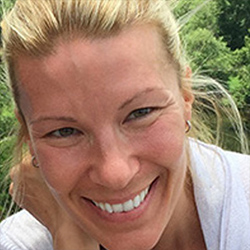 Mimi has been practicing Yoga since 1998 and has been teaching for over fifteen years. Her physical journey began with ballet at the age of four, progressed with martial arts and Yoga in her twenties, and continues to the present day. Mimi is passionate about her wellness exploration and her teaching encourages others to seek their most powerful and evolved selves.
A constant seeker, Mimi is consistently studying with her teachers and traveling to trainings, intensives, and retreats to further her knowledge of Yoga and her passionate wellness journey.
See more at www.mimiriegeryoga.com.