Swami Gurucharanananda "Mataji"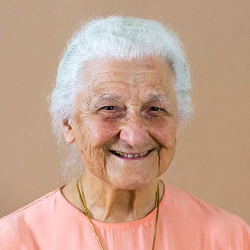 Swami Gurucharanananda, lovingly called Mataji, is a senior sannyasi (monk) and disciple of Gurudev, Sri Swami Satchidanandaji Maharaj. She lives at Yogaville and serves on the Sannyas Board. Mataji is a guided meditation leader and Hatha Yoga teacher, an inspiring speaker, Integral Yoga® mentor, and private retreat guide. She loves to offer pujas (worship service), read Sri Gurudev's teachings at lunch, and play the violin as a wake-up call in the dorms! In 2014 she was awarded the Swami Satchidananda Lifetime Service Award. Mataji always has a loving, joy-filled smile ready for you!
Events with Swami Gurucharanananda "Mataji"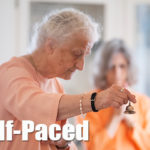 The Power of Thought – Self-Paced
Open Dates
In this previously recorded self-paced workshop, discover the power of thought with Swami Gurucharanananda, lovingly called "Mataji". Thoughts are alive! The speed and power of thoughts are unimaginable. Learn how a desire stimulates a thought, a thought embodies itself as an action, and actions constitute the web of our destiny. We are playing with many kinds of thoughts these days, so let's try to let our thoughts create the best possible future for everything in our lives. Thoughts make a person, people make a civilization! There is a powerful "thought force" behind every event in life. A new age is…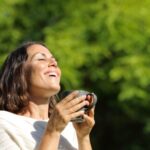 How to Be Happy
January 19 - 21, 2024
"Before praying, believe, before speaking, listen, before spending, earn, before writing, think, before quitting, try, before dying, live — a sure way to happiness". – Mataji Feeling happy at times may seem easy, but how do you cultivate more of it in your everyday life? Join senior sannyasi Swami Gurucharanananda, lovingly called "Mataji", on an exploration of discovering new and everyday ways to experience happiness. In preparation for this retreat, Mataji invites all participants to experiment with a positive change you would like to make in your life. Throughout this retreat, you will discover how you can use faith and…