Sundar Balasubramanian, Ph.D., C-IAYT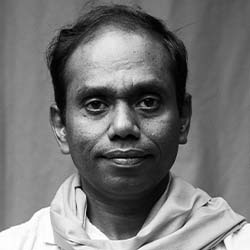 Dr. Sundar Balasubramanian is a cell biology researcher from the Department of Radiation Oncology at the Medical University of South Carolina, USA, and is a Yoga researcher specializing in breathing exercises. He is the founder & CEO of PranaScience Institute and the Yoga specialist at the MUSC Health & Wellness Institute. Sundar is the chair for Wellness in the Department of Radiation Oncology and is a member of the Cancer Control Program and the Survivorship and Cancer Outcomes Research Program at the Hollings Cancer Center. Sundar's Yoga research provided evidence linking salivary biomarkers and yogic breathing (also called pranayama). He studies how breathing practices could promote well-being in health and disease. His current studies include testing a Yogic breathing app for cancer survivorship and a web portal development for Yogic breathing, both funded by the National Institutes of Health (NIH). He has developed several tools to improve the practice of Yogic breathing for employee wellness, cancer survivorship, aging, and scleroderma.
Sundar is the author of four books and several book chapters. His notable books include PranaScience: Decoding Yoga Breathing and Mind Your Breathing: The Yogi's Handbook with 37 Pranayama Exercises (available in Tamil, English, and Hindi versions). He uses chanting as another way of practicing breathing regulation and these chants are available as audio albums such as Chanting Is Pranayama, Kandhar Anubhoothi, and Thirukkural Maraimozhi. Sundar grew up in Tamil Nadu, India in a traditional Yoga and Siddha medicine-practicing family background. He has been conducting workshops and training programs and giving talks on the scientific aspects of pranayama globally. He is a member of the International Association of Yoga Therapists (IAYT) and the Integral Yoga Teachers Association (IYTA), and he is an IAYT certified Yoga therapist (C-IAYT). His popular TEDx talk has over 1 million views.
See more at PranaScience.com
Events with Sundar Balasubramanian, Ph.D., C-IAYT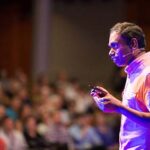 Mechanisms and Applications of Pranayama
February 24 - 26, 2023
Pranayama, also called yogic breathing, is one of the key practices within the discipline of Yoga. Next to asanas (postures) and meditation, pranayama is gaining increasing importance in the Western world. The availability of ancient literature and modern scientific evidence is sparse on this subtopic of Yoga. Dr. Sundar Balasubramanian is one of the very few connecting the ancient Siddha tradition and modern science in regard to pranayama. He is a pioneer in the research of the effects of pranayama practice on salivary biomarkers and he has also been researching techniques related to pranayama from the ancient and unique Siddha…