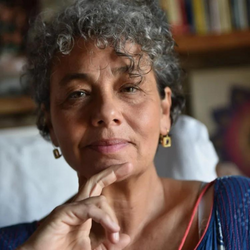 "Staying in the Flow of Life is an Art that can be experienced at any moment, being aware of it takes us away from ignorance and brings us closer to the realization of who we really are".
In 1995 I met my spiritual Master Sri Swami Satchidananda in the Yogaville Ashram in Virginia (USA) where I trained as an Integral Yoga teacher and where I lived for some time. Since then I have been going regularly offering my service in various training courses.
In 1999 I opened a Yoga center in Milan with other colleagues and in 2005 I founded the Integral Yoga Shanti center, also in Milan, of which I am still the president.
I specialize in different types of Hatha Yoga (adults, children, teenagers, pregnant women, gentle and heart patients), Raja Yoga and meditation; since 2003 I am qualified to train Hatha Yoga teachers (basic and intermediate level) and Raja Yoga . I love the world of martial arts (practiced from an early age), traditional Chinese medicine and in particular Shiatsu which I integrate into my personal practice and teaching.