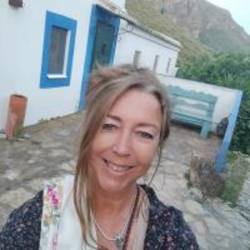 Maya is a Hatha Yoga teacher who shares her enthusiasm for original and traditional Hatha Yoga within her classes. She has been practicing Yoga since March 2003 and has been teaching since April 2010.
Maya qualified as a Hatha Yoga teacher with the Divine life Society, (Almeria branch) under the guidance of her yoga teacher Sharon Fisher and a 200hr Hatha Yoga Teacher Training with the British School of Yoga.
Yoga classes with Maya involve Asana (postures), Relaxation, Pranayama (breathing practices) & Meditation, focusing on improving both mind and body. Every process is well explained and demonstrated throughout the session. Maya tries to maintain the purity and essence of Yoga as well as variety, which appeals to so many of her students.