Hersha Chellaram, E-RYT 200, RPYT, and RCYT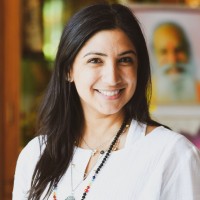 Hersha Chellaram, E-RYT 200, RPYT & RCYT is a certified Integral Yoga instructor since 2002, an authorised teacher trainer, and adaptive yoga specialist in bringing the complete practice of yoga to adults and children of all ages and abilities (even the grown-up ones), including those with special needs, disabilities and chronic health conditions.
She has studied yoga since childhood under the loving guidance of Sri Swami Satchidananda — an enlightened Yoga Master who founded Integral Yoga® in 1966. Hersha serves as Chair of the Integral Yoga Global Network and Asia Pacific Representative, as well as heads up the Integral Yoga Hong Kong Sangha. She is certified and accredited to teach yoga at the E-500 RYT level, as well as prenatal and children's yoga. 
She is co-founder of the YAMA Foundation — a new non-profit organisation that makes Yoga, Art, Meditation Accessible, targeting Hong Kong's underserved communities that would not otherwise have access to yoga classes: www.yamahk.org 
Hersha Yoga is a Registered Yoga School with the Yoga Alliance at the 200-hour level and Registered Prenatal Yoga School — an international accreditation authority in the Yoga industry — and holds credentials as an Experienced Registered Yoga Teacher at the 500-hour level (E-RYT 500), a Registered Prenatal Yoga Teacher (RPYT) and Registered Children's Yoga Teacher (RCYT).  She is also a member of Integral Yoga Teacher's Association and the International Association for Yoga Therapists. 
She has contributed numerous classes, yoga therapy sessions, workshops and training programs in Hong Kong, New York, India, Spain, Portugal and Gibraltar.  She has been instrumental in bringing yoga to Hong Kong for the special needs community. She has developed a number of therapeutic yoga programs to many of Hong Kong's schools, non-profit organisations, NGOs and charities.