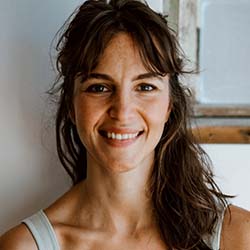 Julia works internationally leading group trainings, workshops, and retreats as well as individual sessions on the topics of mindfulness, Strala, Yin Yoga, inner work, and personal development. She offers these programs with the goal of giving people opportunities to get to know themselves better. She likes to design spaces and journeys in which people connect with themselves and find individual answers to what is important to them in their lives. Julia founded the TreeHouse Bavaria near Munich in Germany, which serves as her homebase and holds space for her events and various mindful gatherings.
Julia interweaves her own personal change and development processes with her broad educational and training background in the fields of mindfulness, Yoga, meditation, transformation, and contemplative psychotherapy. She values pragmatic and authentic work that builds bridges between the mind and heart as well as theory and practice.
More information about Julia Kupke and her work can be found at juliakupke.de and on Instagram and Facebook.