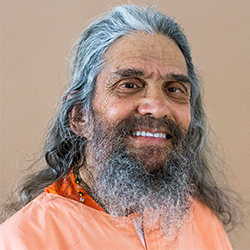 Swami Murugananda is a senior sannyasi (monastic) and has been a disciple of Sri Swami Satchidananda since 1966. He has served in all the Integral Yoga Institutes and Ashrams of California, New York City, Connecticut, and Virginia since 1982. He has served in various capacities as an advanced Yoga teacher, counselor, gardener, farmer, chef, bookstore manager, "Rabbi", herbalist, and more.
At Satchidananda Ashram–Yogaville he established the first website registered with the domain name yogaville.org and founded the SASTRI project (Satchidananda Automated Satsang Text Retrieval & Indexing). SASTRI is the master archival database containing all the transcripts of Sri Gurudev's satsangs and talks spanning over 36 years. Swami Murugananda created and now maintains the Yogaville Library of over 25,000 holdings. In his spare time, he also writes and has performed stand-up comedy for the past 33 years.
Swami Murugananda will soon publish his first book detailing his journey on the spiritual path and the way to it, adventures and frequent misadventures, the numerous times he was protected from extreme danger, and so much more.