Restorative Yoga Teacher Training Part 1
with Satya Greenstone, E-RYT 500, C-IAYT
April 2 - 7, 2023
For Yoga teachers and health professionals
Restorative Yoga is a simple, effective antidote to relieve stress, tension, and anxiety. Learn to teach this practice of placing the body into specific Yoga asana (postures) using the support of props such as bolsters, pillows, blocks, blankets, or chairs.
These gentle asanas literally hold and maintain the position of the body as one releases mental and physical tension. In this supported state, the asana can be held for a significantly longer period of time, which facilitates a state of deeper relaxation. This extended duration allows the innate intelligence of the body to reintegrate the system to its natural state of balance and peace as the tension dissolves and melts away.
The Restorative Yoga poses may be offered as an alternative to regular asanas, when one is low in energy, during times of mental or physical stress, as well as during a time of physical illness, healing, or crisis. The supported poses enable one to receive the benefit of the asana without exerting muscular effort.
In Part 1, you will learn how to:
Teach a complete, balanced, 90-minute Restorative Yoga class
Adapt the basic poses for shorter classes and incorporate restorative poses into regular Hatha Yoga classes and practices
Instruct, modify, and adjust poses for individual needs
Create a safe, relaxing, one-on-one restorative session
Practice stress management with Restorative Yoga
Safely and effectively use props, including what props to use, when to use them, care, and storage
Teach Restorative Yoga Nidra (supported relaxation poses)
Incorporate other healing aspects of Yoga into your practice
Develop a personal Restorative Yoga practice
All props will be supplied for your use and practice during the course.
Training Information
Prerequisites
200-hour Integral Yoga Hatha Teacher Training Certification or the equivalent. Students certified in other Yoga traditions will be considered on an individual basis. Experienced Yoga students interested in deepening their understanding and experience of Restorative Yoga may also apply to be considered.
Continuing Education (CE) Opportunities
Testimonials
Satya Greenstone is truly the best of the best, and so is this training! I've never felt more grounded, centered, and relaxed! — Raquel "Raji" Rubin

This program more than exceeded my expectations. The progression of the classes through the week developed a complete program accessible to everybody. — Carol Halverson

Satya is a fantastic teacher—her style makes sense in my brain. Her understanding of group dynamics and social psychology is a joy to watch. She just knows when to/how to hold space. She creates a safe environment for learning that makes it possible for people to arrive on Sunday and be teaching within 24 hours. — Tami
Presenter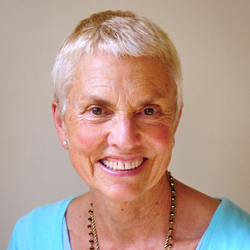 Satya Greenstone, E-RYT 500, C-IAYT
Satya Greenstone has been a student of Sri Swami Satchidananda since 1971. She has shared the teachings of Integral Yoga® in many diverse settings with students of all ages and backgrounds and combines a natural, practical, down-to-earth approach to Yoga with a gentle humor. Since 1999 she has been a primary teacher for the 200-hour and the Intermediate Integral Yoga Teacher Training programs. While serving as teacher training coordinator, she helped to develop and teach the first Gentle Yoga Teacher Training program. She has also developed and teaches training programs in Restorative Yoga, Adaptive Yoga, and Yoga and Meditation for…
Learn more about Satya Greenstone, E-RYT 500, C-IAYT