Accessible Yoga Training
with Rev. Jivana Heyman, E-RYT 500, C-IAYT, IYM
March 29 - April 1, 2019
Discover how to make the Yoga teachings available to everyone, regardless of their level of physical ability, during the Accessible Yoga Training. Learn to create integrated Accessible Yoga classes where all students can practice together. Explore the many ways that Yoga practice can be modified to suit students with disabilities or physical challenges, as well as seniors.
Emphasizing inclusivity, the training will address how to make Yoga classes welcoming to everyone and how to approach students in a trauma-informed way. Additionally, we will consider how to incorporate Yoga philosophy and meditation into your classes, and how Yoga can be used to support health and healing for every body. Included in this training will be a review of common medical conditions so that you can have a basic understanding of these issues.
The Accessible Yoga Training curriculum includes:
Adapted asanas (postures) and variations of  popular asanas
Techniques for creating integrated Accessible Yoga classes
Sample Accessible Yoga classes—on the floor, in a chair, or in a bed
Overview of common medical conditions, such as diabetes, arthritis, respiratory diseases, cancer, H.I.V./AIDS, heart disease, and more
Review of some of the major impacts of aging on all the systems of the body
Study of The Yoga Sutras of Patanjali and The Bhagavad Gita
Methods for empowering people with disabilities by giving them a deep understanding of the Yoga teachings
Strategies for making the subtle practices of pranayama (breathing exercises) and meditation available for all students
Guidance on building a strong community among Yoga students to support the transformational process of Yoga
This training includes 9 hours of online material, plus 21 hours of in-person instruction.
Training Information
Graduates of this program become Accessible Yoga Ambassadors and connect with a network of Accessible Yoga teachers and students around the world. Participants who have completed a 200-hour Yoga teacher training will become Certified Accessible Yoga Teachers.
Prerequisites
None.
Please know the completion of the online component is a requirement for the course in-person. You will receive the online study material upon registration.
Continuing Education (CE) Opportunities
Testimonials
I was truly blown away at how much I learned while I was there! I was greatly in need of hands-on, practical applications (and variations) to make the Yoga I teach more accessible than it already is, and I definitely got that! — Natalie Dunbar

Jivana's Accessible Yoga Training was a tremendous experience. It was filled with a plethora of wisdom and yogic inspiration. Months later, I am still amazed by the way this information is broadening my teaching style, increasing my confidence, and providing an even deeper awareness that Yoga is for every body. — Sarit Rogers

The Accessible Yoga 4-day training shifts the perception of modern Yoga and returns it to the essence of the Yoga teachings. Jivana Heyman is an incredible teacher who inspires others by his being. He is a living example of authenticity and service. — Hersha Chellaram
Presenter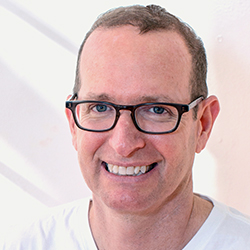 Rev. Jivana Heyman, E-RYT 500, C-IAYT, IYM
Reverend Jivana is founder of Accessible Yoga, an international organization dedicated to increasing access to the Yoga teachings. Accessible Yoga offers conferences, trainings, and an online network dedicated to sharing Yoga with every body. He is co-owner of the Santa Barbara Yoga Center and an Integral Yoga minister. With over 20 years of training and teaching in the Integral Yoga tradition, Jivana has specialized in teaching Yoga to people with disabilities with an emphasis on sharing Yoga philosophy. His passion is making Yoga accessible to everyone. Jivana has led over forty Yoga teacher training programs over the past 16 years, created…
Learn more about Rev. Jivana Heyman, E-RYT 500, C-IAYT, IYM