The Power to Heal
with Nischala Joy Devi
August 31 - September 3, 2018
Many of us have experienced the physical and emotional benefits of Yoga; yet, how many have the courage to delve deeper?
Though it's often thought to be relegated to a few, we all have the power to heal.
Yogic wisdom and practices, when understood and applied with deep awareness, lead us to complete healing. Beginning with ourselves, this energy grants us the ultimate power to return to wholeness. By directing and enhancing the pranic life force, secrets are revealed that many of us only hear about or imagine.
In this workshop we will focus our awareness on the subtle nervous system, including chakras and nadis. With great attentiveness, the dynamic energy within (kundalini) gradually awakens. We are then blessed with unlimited energy and vitality. This is the energy we employ for healing.
If your regular practice includes the more subtle aspects of Yoga but you have not become acquainted with this dynamic energy, this workshop is for you.
Developing the power to heal, we will:
Learn advanced practices in pranayama, imagery, and meditation
Design meditations on the chakras and subtle nervous system
Liberate vital energy from the chakras
Involve the mind and senses to direct and focus this energy
Acknowledge the healing power as our birthright
Welcome this energy as a constant companion in our lives and teaching
Empower ourselves to heal ourselves, others, and ultimately, the entire world
Give yourself the gift of healing and the ability to share it. Rediscover the real mystical power of Yoga to heal.
Training Information
Prerequisites
200-hour Yoga teacher training certification or a regular Yoga practice of at least one year that includes the more subtle aspects of Yoga. This course is not recommended for beginners.
Continuing Education Opportunities
Yoga Alliance (YA):  Approximately 17 contact hours
Integral Yoga 300-hour Mentored Program: 17 hours towards RYT 500 designation
International Association of Yoga Therapists (IAYT): Approximately 17 contact hours
Integral Yoga Teachers Association (IYTA) can provide you a CE certificate of your program's total contact hours. For more information, email [email protected]
Testimonials
Nischala is the blend of medical science, mystery, myth, and spirit, all wrapped into a joyful, humorous purple shawl. — Chris Schulz

Nischala is a master—a very gifted teacher. — Mollie Robertson

Nischala Joy Devi is a fount of healing wisdom. I am so grateful. — Rev. Sumati Govinda Steinberg
Presenter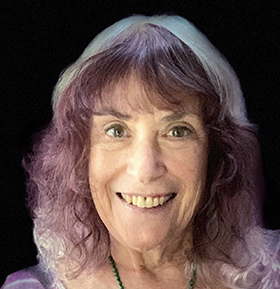 Nischala Joy Devi
Nischala is a masterful teacher and healer, recognized for her innovative way of expressing Yoga and its subtle uses for spiritual growth and complete healing. Her dynamic delivery and deep inner conviction empower each individual, allowing the teachings to expand beyond boundaries and limitations of any one tradition enabling her to touch people's hearts. Originally trained in Western medicine, she began to blend her practice with Yoga. She offered her expertise in developing the Yoga portion of The Dean Ornish Program for Reversing Heart Disease, and co-founded the award-winning Commonweal Cancer Help Program. Her book, The Healing Path of Yoga, and her Abundant…
Learn more about Nischala Joy Devi