Bringing Yoga Therapy into Hospitals and Academia – Online
with M. Mala Cunningham, Ph.D., C-IAYT
February 11 - 15, 2021
For everyone, especially Yoga teachers and health professionals
Are you a Yoga teacher or Yoga therapist seeking to bring Yoga into an academic or hospital environment? Join Dr. Mala Cunningham to learn planning strategies, marketing tactics, negotiation techniques, interviewing skills, and important formulas to successfully implement your ideas into a hospital environment or academic setting. Develop the confidence and skills to successfully "approach, enter, and succeed".
In this online program, you will learn how to:
Format a comprehensive Yoga Therapy Business Plan
Develop networking opportunities
Write an effective and professional proposal
Hone your interviewing skills and sell your idea
Negotiate a salary
Increase referrals from medical providers
Anyone interested in teaching Medical or Therapeutic Yoga in an academic or hospital setting is welcome to attend.
This online workshop consists of two parts:
Part One is a self-paced, 23-hour online study course that has a separate tuition fee of $196 and can be accessed here
Part Two consists of this live online program taught via Zoom
Live sessions with Dr. Cunningham on Thursday and Friday at 6–8 pm, and on Saturday, Sunday, and Monday at 11 am–1 pm and 4–6 pm ET.
Attendance at live sessions is required for certification. Recordings will be available for review for 8 weeks after the program ends, until April 12.
In addition, you will have access to daily Ashram's Live Yoga classes at 5 pm ET and access to an online social community to connect and communicate with other participants about this course.
Prerequisites
Completion of Part One is needed before taking this Part Two live program. Part One has a separate tuition fee of $196. You can access the self-paced course here.
Continuing Education (CE) Opportunities

Testimonials
I highly recommend Dr. Mala Cunningham's course. She is a brilliant teacher and imparts the information in the most interesting and useful way! Those who took her course in Gibraltar absolutely loved it. We had amazing, positive comments from all participants. — Nalanie Chellaram

Mala was a wonderful, open, sharing soul. Thank you. — Shannon Krammes

Mala's skill, knowledge, professionalism, and accessibility exceeded my expectations. — Past Participant

Mala was wonderful! She shared a lot of information in a thoughtful, approachable, and fun way. Great program! So very inspiring! — Past Participant
Presenter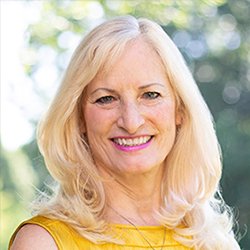 M. Mala Cunningham, Ph.D., C-IAYT
Mala Cunningham is a counseling psychologist and certified Yoga therapist in Charlottesville, VA. She is an assistant professor at the University of Virginia (UVA) School of Nursing where she teaches courses in Foundations of Medical Yoga for Health Professionals. Dr. Cunningham is also the co-director of Medical Yoga at UVA where she has developed and teaches continuing education courses in Medical Yoga for physicians and healthcare workers offered through the UVA Professional Development office. She is also the president of Positive Health Solutions and is the founder and director of Hospital Bed Yoga and the Cardiac Medical Yoga Teacher Training Program.…
Learn more about M. Mala Cunningham, Ph.D., C-IAYT