Neuroscience and Yoga Teacher Training – Online
with M. Mala Cunningham, Ph.D., C-IAYT
June 17 - 20, 2021
Neuroscience can explain how and why Yoga works for healing the body, mind, and emotions. In this online program and certification training, Dr. Cunningham will share with you some powerful techniques and strategies for increasing healing, happiness, and peace; and conversely, you will learn how to reduce negative emotions, thoughts, and behaviors that tend to take over our lives.
Researchers are now able to understand how Yoga and mindfulness practices can help us to heal, restore vibrancy, and increase resiliency. Over the last twenty years, research has proven that Yoga and mindfulness techniques can increase empathy, compassion, and optimism, and can significantly reduce negative emotions such as chronic stress, anxiety, and depression. We now know that certain Yoga and mindfulness practices can have a positive impact on our neurobiology and our neuropathways.
Explore and discuss:
Scientific ways you can rewire the brain, releasing old patterns and introducing new, healing energy into the body, mind, and emotions
Powerful hands-on healing methods designed to help with emotional balance through their positive impact on anxiety, depression, addictions, anger, stress, and other emotional and mental issues
Established tools for helping with physical healing
These ideas and tools are on the cutting edge of neuroscience and therapy. Come learn about this fascinating new field and discover what neuroscience, Yoga, and mindfulness have to offer you.
Live sessions on Thursday at 11 am–1 pm and 3:30–5:30 pm  and Friday at 11 am–1 pm and 4–6 pm, on Saturday at 11 am–2 pm and 4–6 pm  and Sunday at 10:30 am–1:30 pm and 2:30–4:30 pm ET. The schedule includes 18 hours of live sessions. For those in the teacher training track and/or seeking APD credits, an additional 8 hours of practice and lecture will be required for certification.
Attendance at live sessions is required for certification. Recordings will be available for review for 8 weeks after the program ends, until Aug. 15.
In addition, you will have access to Ashram's Hatha classes, meditations, and an inspirational talk. You will also have access to an online social community to connect and communicate with other participants about this course.
Training Information
Prerequisite
Anyone can take this live online training (Part 2) for their own learning experience.
Those who wish to receive a 45-hour teacher certification as well as to apply for IAYT-APD credits are required to:
1. Complete Dr. Mala's self-paced – Part 1: Neuroscience, Yoga and Mindfulness before this live online training – Part 2. The self-paced – Part 1 costs $196 (not included in the tuition for this live online training – Part 2).
2. Complete this live online training – Part 2.
3. Complete homework and attend Live Sessions on:
Fri. June 25 at 5–7 pm
Sat. June 26 at 11 am–1 pm
Tue. June 29 at 7–9 pm EDT
Continuing Education Opportunities

Testimonials
All of it was fantastic…Mala was amazing and so is Yogaville. — Mary Carson

I particularly enjoyed looking at the relationship between thought, behavior, and yogic healing. — Past Participant

Mala was absolutely terrific! Great intersection and synthesis of neuroscience with Hinduism science/philosophy! — Dan Saint
Presenter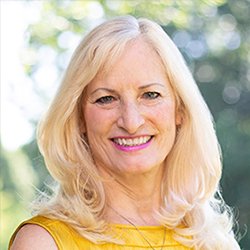 M. Mala Cunningham, Ph.D., C-IAYT
Mala Cunningham is a counseling psychologist and certified Yoga therapist in Charlottesville, VA. She is an assistant professor at the University of Virginia (UVA) School of Nursing where she teaches courses in Foundations of Medical Yoga for Health Professionals. Dr. Cunningham is also the co-director of Medical Yoga at UVA where she has developed and teaches continuing education courses in Medical Yoga for physicians and healthcare workers offered through the UVA Professional Development office. She is also the president of Positive Health Solutions and is the founder and director of Hospital Bed Yoga and the Cardiac Medical Yoga Teacher Training Program.…
Learn more about M. Mala Cunningham, Ph.D., C-IAYT