Summer Silent Retreat: Abiding in Your Light – ONLINE
with Swami Gurucharanananda "Mataji"
June 11 - 14, 2020
We all have many experiences in our daily life which challenge us and even veil our inner light. In response to current global events, this year Yogaville is bringing our annual Summer Silent Retreat to you, allowing you to livestream all the powerful programs and classes on your home computer for a comprehensive and uplifting personal retreat. This online retreat is a unique opportunity to apply the teachings of Yoga to your everyday routine and life at home.
During this retreat, the spiritual practices of Yoga will help you make meaningful changes in your daily life and uncover what makes your light shine. Join us to reconnect with your Self through talks, daily Yoga practices, and silent reflection to enable you to abide in your inner light.
As Spring begins to turn to Summer the light of our day gets longer and we have the many benefits of more sunlight. The sunlight allows us more time to reflect, experience our light within, and bring this light to our lives through our daily Yoga practices.
During this retreat, you will:
Experience your inner light
Acknowledge your essential oneness, yet be proud of your innate uniqueness
Awaken new talents that have not yet been recognized
Use the five Integral Yoga paths to nurture your five human needs
See life as an ever-new, challenging, and exciting experience
Respond with personal effort to make progress toward your goals
What to Expect
Since 1970, Integral Yoga Silent Retreats have provided the solace everyone needs from time to time. You will immerse yourself in silence while teachers offer experiential classes in Yoga philosophy, meditation, breathing techniques, Yoga postures, and deep relaxation.
All Are Welcome
These retreats are open to everyone, from beginners to advanced Yoga retreatants. Those who are new to meditation or Yoga practices will receive full instruction, while those with experience will have the opportunity to deepen their practice.
Testimonials
Amazing! I have no words to do justice to the experience. It felt like coming home, rooting the teachings and heart of Integral Yoga in my own home! The online Silent Retreat was a true jewel. Best thing I have done "for me" in a while. I live far away and it was a marvelous opportunity to bring the teachings to the core of my home. If you're seeking to deepen your practice while creating an ashram-like peacefulness in the heart of your own home, sign-up today! — Natalie Alarcon (Nishtha)

This virtual retreat was a godsend during this pandemic. It was wonderful to be able to practice with like-minded yogis, and the content was varied and relevant. I felt supported and nurtured, and my practice at home has been infused with divine energy. I can't thank you enough! — Maria Puente-Duany

Each of the spiritual instructors had a unique voice but all exhibited such warmth and humility and comfort during these very stressful times. The joy they have found in their lives at Yogaville is obvious and a wonderful example of lives well lived. I already miss them all but will return to hear their wisdom many times in the future. I also realize the gift of having sessions led by Sri Swami Satchidananda. His gentle voice and insight are invaluable.I now see that I was missing the spiritual aspect of a true Yoga practice. I hope to attend a retreat on-site at Yogaville in the future and meet all the wonderful people who call Yogaville home. — Diane Neal
Presenter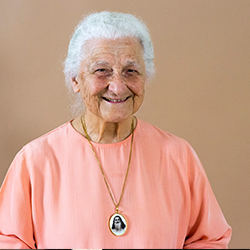 Swami Gurucharanananda "Mataji"
Swami Gurucharanananda, lovingly called Mataji, is a senior sannyasi (monk) and disciple of Gurudev, Sri Swami Satchidanandaji Maharaj. She lives at Yogaville and serves on the Sannyas Board. Mataji is a guided meditation leader and Hatha Yoga teacher, an inspiring speaker, Integral Yoga® mentor, and private retreat guide. She loves to offer pujas (worship service), read Sri Gurudev's teachings at lunch, and play the violin as a wake-up call in the dorms! In 2014 she was awarded the Swami Satchidananda Lifetime Service Award. Mataji always has a loving, joy-filled smile ready for you!
Learn more about Swami Gurucharanananda "Mataji"