Building Resilience: Winter Practices for Self-Care
with Debora Nitya Jackson, E-RYT 500
February 7 - 9, 2020
Immerse yourself in the yogic lifestyle and enjoy thoughtfully designed practices of Hatha Yoga, meditation, and Ayurveda, to align with the cycles of nature, build resilience and boost your immune system. Create a daily and seasonal self-care routine that is nourishing and stabilizing based on your dosha, individual constitutional type according to Ayurveda.
Winter is a natural time to move more deeply inward and recharge, preparing for the renewal of Spring.
During this retreat, you'll enjoy:
Grounding and warming Hatha Yoga, Restorative Yoga, Yoga Nidra, and meditation practices
Free time for contemplation and nature walks
Delicious vegetarian and vegan meals
Ayurvedic drinks, such as golden milk and chai, to balance the body and delight the palate
This retreat is great for all levels of practitioners and teachers seeking a broader understanding of how to adapt the yogic practices to the individual.
Guest teacher: Rukmini Ando
Special guest teacher: Rukmini Ando
Continuing Education (CE) Opportunities
Testimonials
Debora is not only a kind and supportive instructor but also super fun and lighthearted. I am so glad I took a chance on that first retreat with her. I can't wait until the next one! — Stefanie A.

Deb's Yogaville retreats provided an opportunity for cleansing one's mind and body, practicing Yoga and rebooting. — Cristina S.
Presenter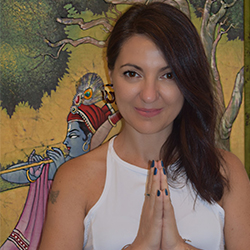 Debora Nitya Jackson, E-RYT 500
Debora Nitya has over a decade of teaching experience and has trained over 100 Yoga teachers in the Washington DC area. She brings her sense of humor to every class she teaches and is committed to helping her students realize their full potential. Nitya is certified in Integral Yoga® Hatha, Himalayan Institute 500-hour Teacher Training, Ayurvedic Yoga Therapy through Mukunda Stiles and the Chopra Center. She teaches Yoga to people from all walks of life in the most diverse settings, including hospitals.
Learn more about Debora Nitya Jackson, E-RYT 500