Fall Silent Retreat: A Time for Inner Transformation
with Swami Gurucharanananda "Mataji" and Senior Staff
October 10 - 13, 2019
Autumn is a season of introspection. It is the perfect time for renewal, reflection, and self-growth. Join us for Yogaville's annual Fall Silent Retreat to reconnect with your inner self and apply the timeless practices of Yoga to your daily life.
In spiritual practice, we observe the activity of the mind and develop an awareness of our thoughts and emotions. These shifting thoughts and emotions form a colorful inner landscape. During this silent retreat, witness your internal state and understand how you can create positive inner transformation.
Through the practice of silence and the teachings of Integral Yoga, you'll go deep within and return home with greater peace and self-awareness.
The silent retreat talks, practices, and reflections will help you to:
Observe inner quiet; witness your calming mind, thoughts, and emotions
Develop immediate goals that can be achieved leading to inner transformation
Remember frequently: We are all one in Spirit but unique in all other ways!  Be proud of your gifts, talents, and goals. Develop them.
Be childlike! Express the joy of wonder, amazement, and awe as each day comes and goes.  Life is ever-new!
Take home the gifts of the Retreat!  Apply them in your daily: in family, prayer, meditation, the spirit of serving. Continue to train and calm your mind. Keep your body healthy through Hatha yoga and diet. Deepen your communion with the Divine in you and all creation!
What to expect
For over 45 years the Integral Yoga silent retreats have been offering participants a safe, supportive space to focus on their spiritual practice. Surrounded by a serene woodland landscape, you will have the opportunity to immerse yourself in silence while seasoned teachers offer experiential workshops and classes in Yoga philosophy, meditation, deep relaxation, and more.
Private mentoring is available. You may also seek support or clarification during the retreat by asking written questions.
Who can attend
These retreats are open to everyone—from beginners to advanced Yoga retreatants. Those who are new to meditation or Yoga practices will receive full instruction, while those with experience will have the opportunity to explore more deeply.
Testimonials
I needed to recharge, unwind, unplug, renew commitment to my spiritual path. I got all that and more. The program was full but flexible. I did not feel pressure. Thank you. I'll be back. — Nellie Lazar

You were all such examples to me of love and service and kindness. I saw such confidence in every person that was inspiring to me. Your registration process to the administration of this program was so efficient and yet personal. You didn't waste my time with inefficiencies. Excellent work! I know that it takes a lot of work behind the scenes. Thank you 10,000 times! Jai! — Martha F.

Thank you for such a memorable experience and for creating a space where we can all be reminded of who we are and how to practice love and joy and bliss in our daily lives. — Past Participant
Presenters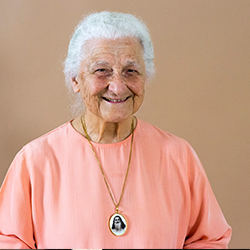 Swami Gurucharanananda "Mataji"
Swami Gurucharanananda, lovingly called Mataji, is a senior sannyasi (monk) and disciple of Gurudev, Sri Swami Satchidanandaji Maharaj. She lives at Yogaville and serves on the Sannyas Board. Mataji is a guided meditation leader and Hatha Yoga teacher, an inspiring speaker, Integral Yoga® mentor, and private retreat guide. She loves to offer pujas (worship service), read Sri Gurudev's teachings at lunch, and play the violin as a wake-up call in the dorms! In 2014 she was awarded the Swami Satchidananda Lifetime Service Award. Mataji always has a loving, joy-filled smile ready for you!
Learn more about Swami Gurucharanananda "Mataji"