Introduction to Yin Yoga
with Biff Mithoefer, E-RYT 500
August 30 - September 1, 2019
Guided by Biff Mithoefer, author of The Yin Yoga Kit and a founder of the Jamtse School of Yin Yoga, you will practice Yin Yoga to bring health to your body and balance to your busy, Yang-style life. Yin Yoga uses long-held postures that support you in accessing the deeper, more Yin parts of yourself.
Explore how this ancient yogic practice can promote the flow of Qi (energy) through the meridians (energy channels) of your deep Yin core.
Learn how to incorporate Yin postures and philosophy into any Yoga practice by:
Applying Taoist philosophy
Following the movement of prana (life energy) in the body and explore how to affect it with Yin Yoga
Gaining a basic understanding of the Chinese meridian system and its relationship to yogic chakra theory
Exploring basic anatomical differences that ultimately affect Yoga postures
Balancing the Yin practices with more Yang-style practices, based on Hatha Yoga and the Taoist tradition
If you'd like to dive deeper into your study of Yin Yoga, join Biff for Yin Yoga Training – Module 2, September 1–6, 2019.
Biff is also offering Yin Yoga and Storytelling – Module 3 at Yogaville, December 1–6, 2019.
Continuing Education (CE) Opportunities
Testimonials
I had never studied Yin Yoga and I found the class very informative, compassionate, and personally beneficial.—Past Participant

I highly recommend the Yin workshop. Biff teaches with heart using poetry and archetypes to add to his knowledge of the physical body and Yin posture. — Carol Siegel

This workshop was a grounding experience by an outstanding teacher and his assistants. The uplifting live music and poetry made this a memorable and moving time that I will take forward with me into my life and practice. — Diana Simonton
Presenter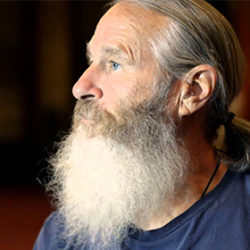 Biff Mithoefer, E-RYT 500
Biff teaches Yin Yoga throughout the US and internationally. He is the author of The Yin Yoga Kit, coauthor of The Therapeutic Yoga Kit, and a founder-director of the Jamste Sponsorship Program for the support of Tibetan refugee children. He is an E-RYT 500 Yoga Alliance registered teacher and has trained and taught extensively with Don and Amba Stapleton, and has studied Yin Yoga and anatomy with Paul Grilley. Biff has studied shamanism with teachers of the Shapibo tradition of Eastern Peru and is a student of cross-cultural shamanism, as taught by Angeles Arrien. See more at biffmithoeferyoga.com
Learn more about Biff Mithoefer, E-RYT 500