Yin Yoga and Storytelling – Module 3
with Biff Mithoefer, E-RYT 500
December 1 - 6, 2019
Join Biff Mithoeffer, author of The Yin Yoga Kit, for a Yin Yoga training that explores the impact of storytelling on your life.
Storytelling is the most ancient of the healing arts. Stories remind us that our lives ebb and flow. Understanding how your life moves through the universe's bigger story can help you recognize what stories to let go of and what stories to nourish.
By putting yourself in Yin postures and accessing your deep connective tissue, you will begin to connect with your stories on a very deep level. Some of these stories are healing and can be embraced, while some no longer serve you and can be transformed. When you understand the role storytelling can have in your life, you can learn to genuinely listen to your own stories and respect them for what they can teach you.
Training Information
Prerequisites
This training is a stand-alone training and is open to any dedicated Yoga students and teachers who are interested in deepening their practice or teaching. If you haven't studied with Biff before and plan on coming to the third module only, we ask that you read The Yin Yoga Kit and familiarize yourself with the basic concepts of Yin Yoga.
If you'd like to deepen your understanding of Yin Yoga before the start of this program, join Biff for Introduction to Yin Yoga, August 30–September 1, 2019, and Yin Yoga Training – Module 2, September 1–6, 2019.
Continuing Education Opportunities
Jamtse School of Yin Yoga: 50 hours of Yin Yoga teacher training. The training will consist of approximately 45 contact hours. In order to receive a certificate of completion, each student will be asked to complete an additional 5 hours of independent study during the 30 days following the training. After completing the independent study, each student will communicate their experience to Biff by mail or email. Your communication won't be judged or graded.
Yoga Alliance (YA):  Approximately 45 contact hours count toward your ongoing certification with Yoga Alliance.
You can input your contact hours using your YA log in information.
Integral Yoga Teachers Association (IYTA) can provide you a CE certificate with your program's total contact hours for a $10 fee (free for IYTA members.) For more information, email membership@iyta.org.
Throughout the course, you will enjoy practicing Yin Yoga immersed in the devotional enchanted sounds of special guest, Prema Mayi. Following the training, she will be offering a weekend workshop The Art of Prayer with Eric Archer, December 6–8.
Testimonials
Biff Mithoefer is absolutely sensational. The training and experience were life-changing. — Past Participant

Biff has an authentic understanding of the essence of Yoga and holds true to the meditative dimension of the practice. He guides you in utilizing Yin Yoga in a healing, restful, and deepening way. The program is a great joy and recommended for anyone wanting to spend some time working on their spiritual journey. — Ishpreet Singh

Biff is a Yin Yoga master. He knows how to share the knowledge without overwhelming you. He has a sense of humor, but incredible depth at the same time. — Anjali Davidson
Presenter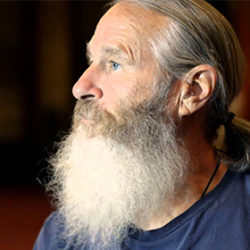 Biff Mithoefer, E-RYT 500
Biff teaches Yin Yoga throughout the US and internationally. He is the author of The Yin Yoga Kit, coauthor of The Therapeutic Yoga Kit, and a founder-director of the Jamste Sponsorship Program for the support of Tibetan refugee children. He is an E-RYT 500 Yoga Alliance registered teacher and has trained and taught extensively with Don and Amba Stapleton, and has studied Yin Yoga and anatomy with Paul Grilley. Biff has studied shamanism with teachers of the Shapibo tradition of Eastern Peru and is a student of cross-cultural shamanism, as taught by Angeles Arrien. See more at biffmithoeferyoga.com
Learn more about Biff Mithoefer, E-RYT 500