Strengthen Your Container: Yoga for Grief and Loss
with Karla Helbert, LPC, E-RYT 200, YACEP, C-IAYT
February 7 - 10, 2019
How do we carry a grief that seems larger than the world? We carry it in a really strong container.
Grief, loss, and trauma are some of the most difficult experiences imaginable. When you have experienced loss so profound there is no "getting over it," you can only learn how to hold and carry it.
Join author, psychotherapist, and yogini Karla Helbert for a time of solace and connection in a retreat space of both learning and experience.
You will learn to:
Engage in movement, meditation, self-inquiry, chanting, journaling, and time with nature
Understand how each branch of Yoga—Jnana, Bhakti, Tantra, Karma, Raja, Hatha, and Japa—helps you to strengthen your container
Learn ways to establish your own personal practice and a path to self-care
Explore how the koshas (layers of being) and chakras (energy centers) are affected by experiences in trauma, grief, and loss
Deep grief is the result—and an expression—of deep love. It is a state to which we will return over and over in different ways throughout our lives, sometimes for the same person or loss, sometimes due to different losses.
It is important to have support in learning to adapt, adjust, and accommodate to what is. Being in the present moment, even when that moment is potentially painful, can be sacred and loving.
Grief can be transformative, but how we perceive or experience that transformation may not be how we imagined. The tools of Yoga are ideal for helping us bear what many feel is unbearable—they help us endure what cannot be cured. Learn how to move closer toward a place of balance as you validate the human experience of grief, loss, and trauma.  Allow space for love and self-compassion and find ways to adjust to the changes that come with grief.
Together we'll come to more deeply understand how the ancient paths of Yoga can help us bear what grief asks of us.
Karla's book, Yoga for Grief and Loss, is available for purchase online at Integral Yoga Distribution by clicking here.
Continuing Education (CE) Opportunities 
Testimonials
At the retreat, we could come together without judgement, talk about our children, and learn to be with our grief. Karla, being a bereaved mother, truly understands this journey. She is phenomenal, kind, and caring. She has helped and touched so many. — Tami

Words can't describe it, but Karla helped me to live in the pain and grief so I can survive, grow, and transform. She made me realize that I can continue my relationship with my son in the endless and deep grief I will always have for him. — Tamara

[This program] is deep and authentic. It comes from Karla's personal experience with the loss of her firstborn, from her intense study of Raja Yoga, the study of the mind and human behavior, and the foundation of her Integral Yoga teacher training. Such a refreshing, effective and inspiring approach! — Nora Vimala Pozzi
Presenter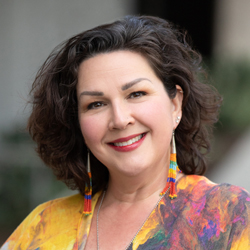 Karla Helbert, LPC, E-RYT 200, YACEP, C-IAYT
Karla is a licensed professional counselor (LPC), Compassionate Bereavement Care® provider, Yoga therapist, and certified Integral Yoga teacher. Her life was irrevocably changed when her son died of a brain tumor in 2006. Karla's award-winning book, Yoga for Grief and Loss, is endorsed by Integral Yoga® leaders and teachers as well as other experts in the fields of both Yoga and loss. The book examines how the paths of Yoga can support us in trauma and grief. She also shares the teachings and philosophies of Yoga's ancient wisdom in her book The Chakras in Grief & Trauma. Relying on ritual, meditation,…
Learn more about Karla Helbert, LPC, E-RYT 200, YACEP, C-IAYT