Restorative Yoga Teacher Training – Part 1: Foundations
with Satya Greenstone, E-RYT 500, C-IAYT
June 3 - 8, 2018
Part 1: June 3–8, 2018
Part 2: September 30–October 5, 2018
10% Off for those registering for both Parts 1 and 2
Click here to register for both parts

Restorative Yoga is the practice of placing the body into a specific Yoga asana using the support of props such as bolsters, pillows, blocks, blankets, or chairs. These gentle asanas literally hold and maintain the position of the body as one releases mental and physical tension.  In this supported state, the asana can be held for a significantly longer period of time, which facilitates a state of deeper relaxation. This extended duration allows the innate intelligence of the body to reintegrate the system to its natural state of balance and peace as the tension dissolves and melts away.  
The Restorative Yoga poses may be offered as an alternative to regular asanas, when one is low in energy, during times of mental or physical stress, as well as during a time of physical illness, healing, or crisis. The supported poses enable one to receive the benefit of the asana without exerting muscular effort.
Part 1 curriculum:
Learn to teach a complete, balanced 90-minute Restorative Yoga class
Learn how to adapt the basic poses for shorter classes and how to incorporate restorative poses into regular Hatha Yoga classes and practices
Learn to instruct, modify, and adjust poses for individual needs
Learn to create a safe, relaxing one-on-one restorative session
Practice stress management with Restorative Yoga
Discover how to use props: what props to use, when to use them, care, and storage
Learn to teach Restorative Yoga Nidra (supported relaxation poses)
Explore other healing aspects of Yoga practice
Develop a personal Restorative Yoga practice
All props will be supplied for your use and practice during the course.
Training Information
Prerequisites
200-hour Integral Yoga Hatha Teacher Training Certification or equivalent. Students certified in other Yoga traditions will be considered on an individual basis.
Experienced Yoga students interested in deepening their understanding and experience of Restorative Yoga may also apply to be considered.
Continuing Education Opportunities
Yoga Alliance (YA): Approximately 50 contact hours.
Each part may be taken individually for approximately 50 hours towards RYT 500 hour certification.
International Association of Yoga Therapists (IAYT): Approximately 50 contact hours (Must complete parts 1 and 2 to receive credit for these hours)

Integral Yoga Teachers Association (IYTA) can provide you a CE certificate of your program's total contact hours. For more information, email

membership@iyta.org

.
You will be certified to teach Restorative Yoga after completing Part 1.
Testimonials
Satya held such a large healing and supportive space for us. She teaches from the heart (and leads me to my own) while sneaking in [science] under the radar… [Her students are] blessed with knowledge, support, and growth. — Past Participant

Satya is so fresh in her teachings, she has beginner's mind and is the embodiment of Sat-chit-ananda! — Program Participant
Presenter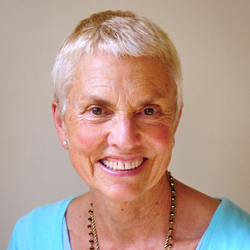 Satya Greenstone, E-RYT 500, C-IAYT
Satya Greenstone has been a student of Sri Swami Satchidananda since 1971. She has shared the teachings of Integral Yoga® in many diverse settings with students of all ages and backgrounds and combines a natural, practical, down-to-earth approach to Yoga with a gentle humor. Since 1999 she has been a primary teacher for the 200-hour and the Intermediate Integral Yoga Teacher Training programs. While serving as teacher training coordinator, she helped to develop and teach the first Gentle Yoga Teacher Training program. She has also developed and teaches training programs in Restorative Yoga, Adaptive Yoga, and Yoga and Meditation for…
Learn more about Satya Greenstone, E-RYT 500, C-IAYT