Forgiveness and A Course in Miracles: Finding All We Want
with Bharata Wingham, E-RYT 200, CLYT
April 7 - 9, 2023
"Forgiveness offers everything I want"
Something deep within us yearns for peace, happiness, abundance, and love. And yet we often seem to end up with just the opposite. A Course in Miracles can show us why this is so. It offers us a better way of living in our world.
We invite you to join this workshop on A Course in Miracles focusing on the teachings of forgiveness. This program can prepare us for miracle-working and fulfilling the promises of forgiveness by returning us to love and peace in any situation: the love which is our "natural inheritance" and is blocked by a false sense of identity.
By centering our awareness on true forgiveness and letting go of everything we don't really want, we find the key to peace, abundance, and love. We then discover that what we were truly looking for was within us all along.
The miracle of forgiveness brings with it everything we had sought for outside ourselves and could not find. By learning a simple forgiveness process, we no longer seek for what we do not want to find, but rather find within us what we no longer need to seek outside.
Unpack these topics and more:
How to stop repeating the past painful experiences through forgiveness in the present
How to make the one simple decision that will shift your perception of the world and everyone in it from fear to love in an instant
Why we need to learn to forgive to experience being forgiven
Learn to distinguish between the two teachers in our mind. Each one has a different outcome in mind for everything that happens to us
How to understand and apply true forgiveness in all our relationships while leaving false forgiveness behind
What it means that, "There are no difficult people, only difficult emotions" and how to be free forever from needing to change other people
Why our happiness is a decision we must make
Why we are never upset for the reason we think
How to escape the locked-in false sense of our identity and how to free ourselves from it
In addition, we will also see how our two-sided​ ​personality, persona and shadow, can trick us into believing in a world that doesn't exist.
If you are new to A Course in Miracles or have been working with it for many years, this program can help you on your path to a deeper sense of love, peace, and awakening to who you really are.
Continuing Education (CE) Opportunities
Testimonials
ACIM concepts were explained with remarkable simplicity in a short program like this. Time flew by too fast, which is usually an indication of how absorbed we were in this program. Bharata displayed patience, levity, grace, and an ability to promote curiosity and application of principles. I want to thank Bharata for this amazing experience, for the gift of this weekend. It was an amazing weekend. — Sam Desai

This weekend offers a fantastic overview of The Course of Miracles. The concepts are presented clearly and are digestible, even though they are obviously very deep and profound. There was plenty of time for application as well. — Ryann Wayne

I found the teacher, Bharata, full of in-depth wisdom on the subject of forgiveness. He fulfilled the ability to answer everyone's questions and gave me the feeling of peace and happiness from being in his presence. He helped and encouraged people in the class to work together, which gave a supportive feeling. Overall, I highly recommend this course to everyone who wants to learn how to forgive others and themselves. — Harrison Edwards
Presenter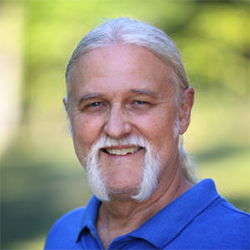 Bharata Wingham, E-RYT 200, CLYT
Bharata Wingham, E-RYT 200, CLYT, is a longtime student of A Course in Miracles, having studied and worked with it daily since 1980. For thirteen years, he produced and hosted a television program, A Course in Miracles Study Group, which was distributed in the US and abroad. While conducting numerous programs and workshops, he authored the book, An Ancient New Idea: A Primer on A Course in Miracles. He is also the author of Laugha Yoga: Combining the Joy of Laughter with the Bliss of Yoga. A Laughter Ambassador, he has trained hundreds of Laugha Yoga Leaders and led thousands…
Learn more about Bharata Wingham, E-RYT 200, CLYT