Raja Yoga Now: Timeless Teachings for Today's Challenges
with Swami Karunananda, E-RYT 500
March 17 - 19, 2023
The Yoga Sutras of Patanjali is the foremost scripture on Yoga. It dates from antiquity, but the principles and practices it presents are just as relevant today for dealing with modern challenges. The Yoga Sutras serve as the foundation of Raja Yoga, the path of controlling the mind through ethical practices, concentration, and meditation.
Sri Patanjali addresses the big questions that have intrigued humanity throughout the ages: Who am I? What is the purpose of life? Why is there suffering and how can I overcome it? What happens to us after we die? Is there a state beyond ordinary awareness where we experience greater peace, joy and freedom? He distills the essence of these queries, reduces them into basic elements, and provides answers with a few carefully chosen words. In the process, he reveals the nature of thought, how to maintain harmony in relationships, and the key to personal transformation. The approach is systematic, comprehensive, inclusive, and universal.
In exploring these topics, we will do a deep dive into the philosophy and psychology of Yoga. Formal practices derived from the Sutras, along with their implementation in daily life, will be shared. Daily sessions for meditation, Hatha Yoga, and pranayama will be provided. Join us for this immersion into the heart and mind of Sri Patanjali, and emerge with greater insight as to how these great teachings can transform your life. Please bring a copy of the Yoga Sutras with you to have at the sessions.
Continuing Education (CE) Opportunities
Testimonials
Swami Karunananda has the ability to make the Yoga Sutras of Patanjali accessible to everyone. She skillfully repeats the concepts many times, so everyone is able to understand and remember them. She uses her personal stories and analogies, which make her lectures so inspiring. Thank you. — Bhakti Cinzia Parma

Swami Karunananda is a wonderful teacher. She is extremely knowledgeable and delivers the subject matter with grace and kindness. She keeps it interesting by adding her stories and makes it feel accessible by relaying personal experiences. — Cinde Divya Pereira

Whenever taking a course with Swami Karunananda, you know you are in the presence of a master teacher. In addition to the excellence of the content, something is transmitted which is almost beyond words, including her deep commitment to the teachings and students, her deep love and compassion. I'm very grateful for all the wisdom she imparts. — M. Sraddha Cole
Presenter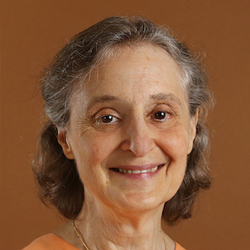 Swami Karunananda, E-RYT 500
Swami Karunananda has had 50 years' experience teaching all aspects of Yoga. She designed and conducts teacher training programs in Raja Yoga and in Meditation. She served as president of Satchidananda Ashram in California and in Virginia, and as director of the San Francisco and Santa Barbara Integral Yoga Institutes. She compiled and edited The Lotus Prayer Book and Enlightening Tales as told by Sri Swami Satchidananda. Her book, Awakening: Aspiration to Realization through Integral Yoga, makes the Yoga teachings accessible and provides inspiration and guidance for the spiritual journey.
Learn more about Swami Karunananda, E-RYT 500