Yoga for Strong Bones Practice Series – Online
with Satya Greenstone, E-RYT 500, C-IAYT
September 7 - November 2, 2022
Wednesdays: Sept. 7, Oct. 5, and Nov. 2
You are invited to join a monthly practice group to refresh, renew, and enliven your experience of Yoga for Strong Bones. We will come together online once a month to share a group Yoga class led by Satya Greenstone.
Each month's class will offer a complete Yoga for Strong Bones practice. Satya will introduce a "challenging pose of the month" to inspire and encourage your personal efforts to continue to develop a strong, healthy skeletal system. There will be time for questions and sharing with the group.
The greatest benefit from the Yoga for Strong Bones practice comes from regular daily practice. We all have times when we fall off the track, lapse in our practice, get bored or lose momentum. The primary purpose of a group practice is to catch ourselves early on to prevent us from slipping too far off track. We all need help and support from time to time.
Class Dates and Themes
If you can't attend all three Yoga for Strong Bones practices, you can also sign up for the practice sessions individually.
Live sessions with Satya on Sept. 7, Oct. 5, and Nov. 2 from 9–11am ET.
You will have access to the video recordings for 8 weeks after the program ends, until December 28, 2022.
In addition, you will have access to recorded Integral Yoga Hatha classes and access to an online social community to connect and communicate with other participants about this course.
Course Information
Prerequisites
Completion of a live or self-paced Yoga for Strong Bones with Satya Greenstone or a live or self-paced Yoga for Bone Health with Dr. Loren Fishman.
Continuing Education (CE) Opportunities
Testimonials
Satya's style is clear, knowledgeable, affectionate, and kind. She willingly takes questions and explains clearly. I'm happy that I was able to take this course! Big thanks to Satya! And also a huge thank you to the Ashram for offering it. — Anna Eidsvik

Satya Greenstone is highly knowledgeable and experienced in all realms of Yoga and Yoga instruction. She is also compassionate, sensitive and encouraging so that her teaching inspires continued practice and curiosity regarding Yoga and personal health. — Leonora Weimer

It's always a pleasure to take a workshop with Satya. She combines the expertise of being a longtime Yoga practitioner, a longtime teacher, a long-time devotee of Swami Satchidanandaji, with patience, love, creativity, and humor. She is always learning, the mark of an excellent teacher, and is eager to share what she has learned with her students. — Ann Simas Schoenacher (Daya)
Presenter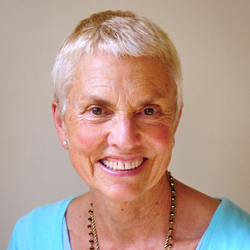 Satya Greenstone, E-RYT 500, C-IAYT
Satya Greenstone has been a student of Sri Swami Satchidananda since 1971. She has shared the teachings of Integral Yoga® in many diverse settings with students of all ages and backgrounds and combines a natural, practical, down-to-earth approach to Yoga with a gentle humor. Since 1999 she has been a primary teacher for the 200-hour and the Intermediate Integral Yoga Teacher Training programs. While serving as teacher training coordinator, she helped to develop and teach the first Gentle Yoga Teacher Training program. She has also developed and teaches training programs in Restorative Yoga, Adaptive Yoga, and Yoga and Meditation for…
Learn more about Satya Greenstone, E-RYT 500, C-IAYT