Yoga Vacation in Lesvos, Greece
with Ram Wiener, E-RYT 500 and Swami Divyananda Ma, E-RYT 500
June 8 - 15, 2022
Travel to the beautiful Greek island of Lesvos to enjoy a Yoga vacation with like-minded spiritual seekers. At the retreat center in the small town of Molyvos, a ten-minute walk to the sea, you will find natural beauty, pleasant accommodations, and a warm and nurturing environment. Immerse yourself in a calm and intimate atmosphere while enjoying the sweeping views of Molyvos and the sea. The three-acre property of the retreat center, with its old trees, flower gardens, and natural stone buildings, creates a truly lush and unique environment.
During this Integral Yoga® vacation, you will enjoy:
Access to a beautiful beach
Daily meditations and Hatha Yoga classes
Talks and classes led by two of the most senior disciples of Sri Swami Satchidananda
Delicious vegetarian meals
Excursions to quaint Greek villages
Time to relax and rejuvenate
See where you'll be staying!
Price details
Price includes accommodations, three vegetarian meals each day, Hatha Yoga classes, and inspiring talks.
Price does not include airfare, transportation to and from the retreat center, excursions, or tips.
Please note
Participants on this Integral Yoga vacation are expected to follow a vegetarian diet.
Alcohol, smoking, and recreational drugs are not permitted.
Presenters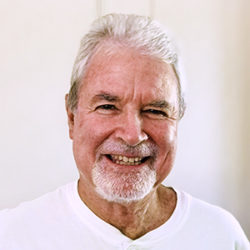 Ram Wiener, E-RYT 500
Ram Wiener is one of the foremost administrators and teachers at Yogaville. He is the President of Integral Yoga Natural Foods, and served as Vice President of Satchidananda Ashram for over 30 years. He is a 200-hr Integral Hatha Yoga Teacher Trainer. Ram is a native of Central America, and is fluent in Spanish, French, Portuguese, and English. He has organized many successful and fun tours to Italy, Mexico, Guatemala, El Salvador, Costa Rica, Peru, Puerto Rico, Nicaragua, Alaska, Greece, and Egypt.
Learn more about Ram Wiener, E-RYT 500
Swami Divyananda Ma, E-RYT 500
Swami Divyananda Ma, E-RYT 500, has had a wealth of experience teaching Integral Yoga around the world since 1973. She has taught at corporations, universities, the Commonwealth Cancer Center, and for the Dr. Dean Ornish Reversing Heart Disease programs. She has also served as one of Integral Yoga's Basic Hatha teacher trainers. Swami Divyananda Ma took monastic vows in 1975 from the great saint and yogi, Sri Swami Satchidananda. Over the years she has served as the director of the Integral Yoga Institutes in Los Angeles, San Francisco, and as Ashram Manager at Yogaville. She also served for ten years…
Learn more about Swami Divyananda Ma, E-RYT 500