Yoga for Strong Bones Part 1 – Online
with Satya Greenstone, E-RYT 500, C-IAYT
October 16 - 17, 2021
Discover how Yoga asana can help to build and maintain strong bones.
A 10-year study by Dr. Loren Fishman demonstrated an increase in bone mineral density and improved bone quality with regular practice of 12 Yoga poses. Yoga asana also improves your balance, posture, strength, range of motion, and coordination, greatly reducing the risk of fracture.
Yoga for Strong Bones Part 1, a 2-day online workshop, will offer complete instruction in the 12 Yoga poses for osteoporosis that were taught in the first Yoga vs. osteoporosis study. The foundation poses are taught at 3 levels with guidance for adapting each pose to your level. Instructions include how to progress safely in the practice at home. There will be guided relaxation practices included in every class to reduce stress and allow the benefits of the poses to be fully assimilated. This workshop provides practical tools and inspiration to give you the skills and confidence to continue a safe, effective Yoga practice for health and strength.
Continued support after the program
To help maintain a regular home practice you will have access to the following online classes:
Complete 60-min daily Hatha Yoga practice which includes the 12 osteo poses
Short 20-min practice of the 12 osteo poses
Guided deep relaxation with pranayama (breathing practices)
Full-color photo handouts of the 3 levels of each pose to download
You will also have access to the instructor, Satya Greenstone, for personal guidance and support.
Live sessions with Satya on Saturday at 9 am–12 pm and 2–4 pm, and Sunday at 9–11 am ET.
You will have access to the video recordings for 8 weeks after the program ends, until December 12.
In addition, you will have access to the Ashram's Live Hatha Yoga classes at 5 pm ET, recorded Ashram meditations, and inspiring talks with Sri Swami Satchidananda. You will also have access to an online social community to connect and communicate with other participants about this course.
Continuing Education (CE) Opportunities
Testimonials
Satya's program provides the beginner through the advanced practitioner, young to elder, with a well-sequenced and paced class to strengthen bones. You may or may not have osteopenia and/or osteoporosis to benefit at any age from this informative program. This was an enjoyable learning experience for me. — Kathleen A. Lapinski

Yoga for Strong Healthy Bones, Part 1, is a terrific way to approach Yoga safely if you have osteoporosis or osteopenia. This workshop is informative, accessible and offers a balanced approach aligning with yogic philosophy, using effort, relaxation, mantra, chanting, and meditation for a well-rounded practice. — Judy Bousquin 

Satya Greenstone has a great depth of experience and knowledge. She brings it to every pose she teaches and provides a variety of approaches to make each pose accessible to anyone. She also provides an abundance of supportive material to underpin the lessons. I would unhesitatingly recommend any class she teaches. — Donna Sturm
Presenter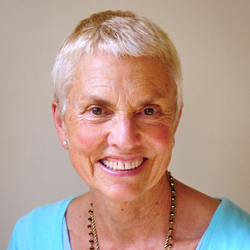 Satya Greenstone, E-RYT 500, C-IAYT
Satya Greenstone has been a student of Sri Swami Satchidananda since 1971. She has shared the teachings of Integral Yoga® in many diverse settings with students of all ages and backgrounds and combines a natural, practical, down-to-earth approach to Yoga with a gentle humor. Since 1999 she has been a primary teacher for the 200-hour and the Intermediate Integral Yoga Teacher Training programs. While serving as teacher training coordinator, she helped to develop and teach the first Gentle Yoga Teacher Training program. She has also developed and currently teaches training programs in Restorative Yoga, Adaptive Yoga, and Yoga and Meditation…
Learn more about Satya Greenstone, E-RYT 500, C-IAYT