Living the Gita: From Despondency to Enlightenment – Online
with Rev. Lakshmi Barsel, Ph.D.
April 17 - 18, 2021
The Bhagavad Gita is one of the great, universal world scriptures that presents the fundamentals of Yoga philosophy and practice. Written in poetic verse, it uses the frame story of the renowned Indian epic, the Mahabharata, as a backdrop.
In this online workshop we will explore the foundations of Jnana Yoga (the Yoga of Wisdom), Karma Yoga (the Yoga of Action), Raja Yoga (the Yoga of Concentration and Meditation), and Bhakti Yoga (the Yoga of Devotion) as presented by Sri Krishna—the incarnation of the Supreme Lord—to his disciple, Arjuna—a great warrior king. We will discuss and highlight selected verses, focusing on the relevance that these teachings have to help us rise above the challenges of modern everyday life. We will also discuss the symbolism and hidden meanings behind key verses.
This workshop will use The Living Gita: The Complete Bhagavad Gita, A Commentary for Modern Readers by Sri Swami Satachidananda as its textbook. We will discuss selected verses from Chapters 1–7, 12. If you have a copy of this book or can order it, it would be helpful to read the verses as we discuss them.
Live sessions with Reverend Lakshmi on Saturday at 9:30 am–12:45 pm and 2–3:30 pm and Sunday 9:30 am–12:45 pm ET.
You will have access to the video recordings for 8 weeks after the program ends, until June 18.
In addition, you will have access to the Ashram's Live Hatha Yoga classes at 5 pm ET, recorded Ashram meditations, and inspiring talks with Sri Swami Satchidananda. You will also have access to an online social community to connect and communicate with other participants about this course.
Continuing Education (CE) Opportunities
Testimonials
Thank you for being such a good channel for God's light, love, and works. Om Shanti! — Art

I enjoyed the instructional sessions that we received. It was wonderful to have a very experienced instructor who taught us. — Past Participant

I found Lakshmi and Paraman so helpful, honest, easy-going, intelligent, willing, who provided wonderful examples! I wanted to move in with them! — Michele Fischer
Presenter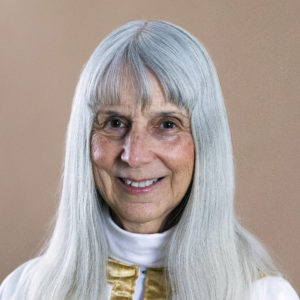 Rev. Lakshmi Barsel, Ph.D.
Rev. Lakshmi is a senior Integral Yoga teacher. She has taught Raja Yoga, meditation, and scripture classes on the Bhagavad Gita and the Thirukkural. She has a Ph.D. in linguistic anthropology and presently serves as the director of the Satchidananda Prison Project and as the chair of the Integral Yoga Ministry.
Learn more about Rev. Lakshmi Barsel, Ph.D.