Yogic Science for Emotional Eating – Online
with Mukta Kaur Khalsa, Ph.D.
February 13, 2021
Food issues are on the rise—no one is immune. We live in a time of great pressure and uncertainty. Constant stress causes emotional pain. Without thought, we subconsciously listen to the voice of our urges and cravings to fill an inner emptiness. Learn and experience how to consciously and compassionately manage food behaviors through precise, scientifically proven Kundalini Yoga practices, meditation, and nutritional protocols.
In this online program you will:
Learn the physical, mental, and social root causes of emotional eating
Understand yogic science philosophy and modern medical research about food addiction
Practice specific Kundalini Yoga techniques, meditation, pranayama, and chanting
Explore delicious and specialized recipes, diets, remedies, and herb supplements for recovery
Discover foods that develop mental clarity and spiritual awareness
Gain a deeper understanding of your unique relationship to food
Apply the knowledge and experience you gain for yourself, your loved ones, your students, and your clients
Program materials (included in tuition price) include two e-books by Mukta Khalsa Ph.D.:
Curb The Urge: Yogic Technology and Humanology Realize Your Optimal Potential
and Meditations for Times of Crisis
Live sessions with Mukta on Saturday at 9 am–12 pm and 1 pm–4 pm ET.
You will have access to the video recordings for 8 weeks after the program ends, until April 10.
In addition, you will have access to the Ashram's Live Hatha Yoga classes at 5 pm ET, recorded Ashram meditations, and an inspiring talk with Sri Swami Satchidananda. You will also have access to an online social community to connect and communicate with other participants about this course.
Continuing Education (CE) Opportunities

Testimonials
Mukta Kaur Khalsa makes this program accessible to people who have never done yoga as well as seasoned veterans of Kundalini yoga and everyone in between. — Kim Balsch

Mukta provided our group with a gentle, loving, guiding light that illuminated the way to self-love, forgiveness, and deeper connection with God. — Becca Bond

Soothing and uplifting. You can't go away feeling the same way you came in. Even if you were serene upon entry, you will be even more so when you leave. This is milk and honey for the soul. — Andra Anjal Stamps
Presenter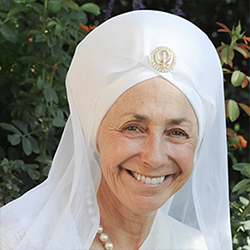 Mukta Kaur Khalsa, Ph.D.
Mukta Kaur Khalsa is the director of SuperHealth and personally trained with Yogi Bhajan for thirty years. She was the director of a specialized hospital in Tucson, AZ, that was rated in the top 10% of all programs in the United States by the Joint Commission on Accreditation of Healthcare Organizations. She is the author of Meditations for Addictive Behavior and Healing Addictive Behavior. SuperHealth is a NGO of U.N. on yogic CE provider integrating into medical community for recovery. See more at Super-Health.net
Learn more about Mukta Kaur Khalsa, Ph.D.