Tuesdays with Mataji: Fall Online Series
with Swami Gurucharanananda "Mataji"
November 10 - December 1, 2020
Tuesdays: Nov. 10, 17, 24, and Dec. 1
Returning by popular demand again, Swami Gurucharanananda, lovingly called Mataji, will continue to offer spiritual talks throughout the fall, sharing her wisdom and light during these challenging times with another four sessions. Mataji is a senior sannyasi (monk) and disciple of Swami Satchidananda. She is a guided meditation leader, Hatha Yoga teacher, inspiring speaker, Integral Yoga mentor, and private retreat guide.
On four Tuesdays throughout the fall, Mataji will speak on a spiritual topic, sharing the teachings of Integral Yoga.
This series explores the question: What is the spiritual "experience"?
Session 1 – Nov. 10
Preparing for the spiritual "experience" is like growing through the four seasons. Fall is the thankful time that urges us on to ever higher, more fulfilling attainments on the spiritual path.
Session 2 – Nov. 17
Winter is the cocoon stage. It is a time of building up energy, a readiness to choose some qualities of our life that will strengthen us on our way.
Session 3 – Nov. 24
Springtime: we awaken! We are renewed and energized to plant the seeds of what we hope will manifest as sprouts: hardy, resilient beginnings of qualities that will overcome all obstacles.
Session 4 – Dec. 1
Summer and the transition back into fall is a time of sincere practice. The dedicated care and constant remembrance of the sprouted growing qualities will pay off and bear fruit in time. This we call the spiritual "experience". In our spiritual lives, we yearn for that peak experience—realization. Then we know who we truly are and life in this mind/body continues as radiant Spirit. That is our goal. In these difficult times, we are being purified for this experience.
Live sessions with Mataji on Tuesdays from 2–3 pm ET. The first 45 minutes of the session will be on the weekly topic, followed by 15 minutes of questions and answers.
You will have access to the video recordings for 8 weeks after the program ends, until January 26.
In addition, you will have access to daily Ashram's Live Yoga classes at 5 pm ET and access to an online social community to connect and communicate with other participants about this course.
Testimonials
Mataji is the person to listen to for encouragement during these challenging times. — Premajyoti (Carolyn) Green

Tuesdays with Mataji was just what I didn't know I needed to get through 2020 grounded in the teachings of Swami Satchidananda. Sitting with Mataji week after week was almost like being there, listening to her during lunch readings or other talks at Yogaville. This was a wonderful opportunity and I am so grateful I joined. — Nieda Lynn Tice Palmer

Mataji, as you know, is an incredibly wise and wonderful person. Sharing her energy, even via an online platform, is just lovely. Her insights and humor encourage me to grow in positive ways and keep coming back. Any time spent with Mataji is time well spent. Her vibration is so high, so good, so loving, and her wisdom and insight are invaluable for those of us on a spiritual path. — Clover

Mataji offers these beautiful teaching always inviting, never insisting. Her teaching makes it seem that all is possible and within our reach. — Dorothy (Divya) Sernaker

There's no doubt that Mataji has been blessed by being a vessel and messenger of Divine love and peace. These talks with Mataji have been very grounding and loving. This was just what I needed in this very energetically chaotic time in our history. — Jennifer McKeen Rodrigues
Presenter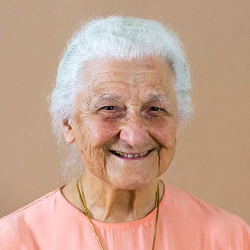 Swami Gurucharanananda "Mataji"
Swami Gurucharanananda, lovingly called Mataji, is a senior sannyasi (monk) and disciple of Gurudev, Sri Swami Satchidanandaji Maharaj. She lives at Yogaville and serves on the Sannyas Board. Mataji is a guided meditation leader and Hatha Yoga teacher, an inspiring speaker, Integral Yoga® mentor, and private retreat guide. She loves to offer pujas (worship service), read Sri Gurudev's teachings at lunch, and play the violin as a wake-up call in the dorms! In 2014 she was awarded the Swami Satchidananda Lifetime Service Award. Mataji always has a loving, joy-filled smile ready for you!
Learn more about Swami Gurucharanananda "Mataji"