Yoga2Sleep: Relax and Fall Asleep Naturally – Online
with Pamela Stokes Eggleston, MBA, E-RYT-500, YACEP
October 31 - November 1, 2020
In this online workshop, release stress, tension, and overwhelm with Yoga2Sleep, a Yoga therapy workshop designed to support a better quality of sleep. This workshop includes personal assessment, pranayama (breathing exercises), meditation, Restorative Yoga, Yin Yoga, intention, and mindset. Yoga2Sleep uses scientific research, in combination with ancient, traditional yogic practices to help you achieve better sleep for the best life.
Sleep is an integral function of the parasympathetic (rest and digest) part of the nervous system. When we don't get enough sleep, our bodies, brains, and emotions suffer. There is good evidence that cognitive and/or physiological excitement, associated with sustained sympathetic activation, is one of the underlying causes of insomnia.
A large body of evidence-based research supports Yoga therapy protocols that holistically address insomnia and sleeplessness. The multi-layered approach of Yoga therapy uses scientific research, in combination with ancient, traditional yogic practices.
This workshop includes:
Distinctive combinations of educational and experiential sessions
An exploration of the koshas and chakras as they pertain to sleep and insomnia
Examining the gross and subtle aspects of the body, heart, and mind and the interplay with adequate sleep
Tangible yogic tools to achieve better sleep
Live sessions with Pamela at 10 am–12 pm and 2–4 pm Saturday and 10 am–12 pm Sunday ET.
You will also have access to the Ashram's Live Hatha Yoga classes at 5 pm and access to an online social community to connect and communicate with other participants about this course.
You will have access to the video recordings for 8 weeks after the program ends, until December 27.
Continuing Education (CE) Opportunities
Testimonial
I am so happy to have spent the day with Pam and I learned more tools for self-care and gentle ways to work with others. I appreciate the way she kept the material interesting and invited everyone to contribute. Teaching us by including a few short and valuable videos, as well. Pam's self-care advice was great! Sleep is so underrated as we learn more, and thanks for getting it out into our world and sharing life experiences! My favorite take-home was Pam's positive approach to helping others move forward and consider changes with a "good, better, best" strategy. Helping people in their own time, a win-win perhaps for those various degrees of motivation that we all are… LOVE! — Kathy B.
Presenter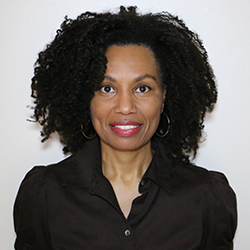 Pamela Stokes Eggleston, MBA, E-RYT-500, YACEP
Pamela is the Founder and Managing Director of Yoga2Sleep. An avid yogini for over 20 years, Pamela was motivated to begin her teaching journey when she realized that Yoga helped her sleep, decreased her insomnia and reduced her knee osteoarthritis pain. She is a Yoga instructor with specialized certifications in plant-based nutrition, Usui reiki, Qi Gong, cognitive behavioral therapy for insomnia (CBT-I), HeartMath coach, prenatal Yoga and Yoga therapy for trauma to work with service members, veterans, and their caregivers. Pamela is Executive Director of the Yoga Service Council, a contributing editor of Best Practices for Yoga with Veterans, and researcher/author…
Learn more about Pamela Stokes Eggleston, MBA, E-RYT-500, YACEP