LifeForce Yoga to Manage Your Mood – Online
with Amy Weintraub, E-RYT 500, C-IAYT, MFA, YACEP
September 19 - 20, 2020
In this online LifeForce Yoga® workshop, learn the power of an ancient discipline with current scientific findings to help you release what is no longer serving you—without a story attached! Join Amy Weintraub, author of the groundbreaking book Yoga for Depression, to guide you through evidence-based Yoga practices for managing your mood.
You will leave feeling refreshed, renewed, and excited about incorporating new tools into your home, teaching, or clinical practice to bring balance to the emotional and physical body.
You'll practice:
Pranayama and kriya (breathing techniques) that regulate the emotions
Meditations that lift the mood
Sankalpa (affirmations)
Bhavana (guided visualizations)
Mantras (tones) that manage the emotions
Mudras (hand gestures) that affect different areas of the chakra system and the body
Yoga asana suitable for all levels
This program is accessible for all levels, including beginners. Health professionals and Yoga teachers will learn techniques not regularly taught in Yoga classes to help their clients focus, relax, and have greater access to their feelings.
Live sessions with Amy Weintraub on Saturday at 10:30 am–12 pm and 2–3:30 pm and on Sunday at 10:30 am–12 pm EDT.
In addition, you will have access to two recorded Yoga classes with Amy—one for depressed mood and one for anxious mood—and a recorded Yoga Nidra with Amy for mood, as well as the Ashram's Live Hatha Yoga classes at 5 pm, recorded Ashram meditations, and inspiring talk with Sri Swami Satchidananda. You will also have access to an online social community to connect and communicate with other participants about this course.
You will have access to the video recordings for 8 weeks after the program ends, until November 15.
Continuing Education (CE) Opportunities

Fulfills the prerequisite for the LifeForce Yoga Practitioner Training.
Testimonials
Amy was wonderful. I learned so much about meditation and breathing techniques. She taught Yoga that allowed us to meet on the mat in the exact mood we were in. Useful even if you aren't in the mental health field. — Courtney Little

I have learned a tremendous amount about how Yoga can help manage mood both for myself and for my students. The atmosphere of the training was so inviting and warm, and it was wonderful to embrace the love that was coming from all the "Precious Beings" in the training. I will take away such valuable tools and memories from it all. — Danelle Haymore

LFY blends science and soul. It equips teachers, healers, therapists, and social workers with the knowledge and confidence needed to heal others suffering from mood disorders and trauma. — Lindsey Wrable
Presenter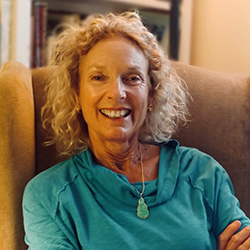 Amy Weintraub, E-RYT 500, C-IAYT, MFA, YACEP
Amy is the founder of the LifeForce Yoga Healing Institute and has been a pioneer in the field of Yoga and mental health for over twenty-five years. She is the author of Yoga for Depression, Yoga Skills for Therapists: Effective Practices for Mood Management, the award-winning novel Temple Dancer, the new card deck Yoga for Your Mood: 52 Ways to Shift Depression and Anxiety, and numerous articles and book chapters.  She offers professional trainings and workshops for mental health and Yoga professionals and speaks at international Yoga and psychology conferences. Amy's evidence based LifeForce Yoga protocol is in use in…
Learn more about Amy Weintraub, E-RYT 500, C-IAYT, MFA, YACEP