Experience the Fullness of Your Feminine Nature – Online
with Nischala Joy Devi and Rukmini Ando, E-RYT 200, RYT 500, YACEP
July 11 - 12, 2020
For women
In this online workshop, experience the fullness of your feminine nature by diving into the depth of intuition, sharings, and joyous self-expression. Invoke the presence of the heart in daily rituals, scripture study, and the physical practices of Yoga. Explore how we, as women, have the power to use each moment of our daily lives to reflect our authentic self.
During this program we will explore:
Meditations to touch and expand the heart
Expressive movements designed to bring forth the Goddess within
Sutras for women, from a woman's perspective
The art of spiritualizing each action in our lives
Discovering and moving to our own inner rhythms
Ancient ways and rituals, and how they define our lives
Commune with other women who share the same vision. Give yourself the gift of knowing the depth of your own heart and the wisdom that it reveals. Experience a deeper capacity to love yourself and others, reawakening creativity and the inspiration to follow your heart's song.
Live sessions with Nischala and Rukmini at 11 am–1:30 pm and 2:30–5 pm EDT.
In addition, you will have access to the Ashram's Live Hatha Yoga classes at 5 pm. You will also have access to an online social community to connect and communicate with other participants about this course.
Recommended reading
The Secret Power of Yoga: A Woman's Guide to the Heart and Spirit of the Yoga Sutras by Nischala Joy Devi
Continuing Education (CE) Opportunities
Testimonials
The power of the heart—love—was what I experienced. Sincere, compassionate, unconditional, selfless, and humble are just some of the words to describe Nischala. Her years of dedication and service are appreciated. It was a blessing and an honor to share her ocean of knowledge. — Tehut Ami

Nischala's compassion and love are palpable, you can reach out and touch it and can't help having it touch you. This has been the most wonderful experience. — D.M.

Having experienced taking a class from Rukmini, I have to say that she is a very gifted Yoga teacher indeed. Her voice is gentle and warm, and her pacing is as close to perfect as I have ever experienced.—T.B.
Presenters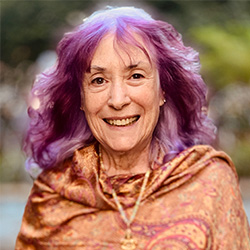 Nischala Joy Devi
Nischala is a masterful teacher and healer, recognized for her innovative way of expressing Yoga and its subtle uses for spiritual growth and complete healing. Her dynamic delivery and deep inner conviction empower each individual, allowing the teachings to expand beyond boundaries and limitations of any one tradition enabling her to touch people's hearts. Originally trained in Western medicine, she began to blend her practice with Yoga. She offered her expertise in developing the Yoga portion of The Dean Ornish Program for Reversing Heart Disease and co-founded the award-winning Commonweal Cancer Help Program. Her book, The Healing Path of Yoga, and her Abundant…
Learn more about Nischala Joy Devi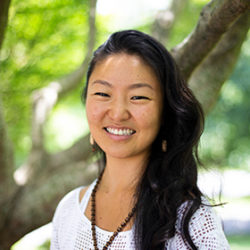 Rukmini Ando, E-RYT 200, RYT 500, YACEP
Nathalie Rukmini Ando has been practicing Yoga since 2004 and has been teaching since 2010. She is certified in Advanced Integral Yoga, Adaptive Yoga, Stress Management, Yoga of Recovery, and Raja Yoga. As a teacher, she's known for her clear instruction and her classes include fun, level-appropriate challenges. She currently serves as program development director, graphic designer, and Yoga teacher at Satchidananda Ashram–Yogaville. She holds a bachelor's degree in engineering and is also a fine artist, specializing in oil-on-canvas. See her artwork at Nathalie-Ando.pixels.com
Learn more about Rukmini Ando, E-RYT 200, RYT 500, YACEP