Gentle Chair Yoga: Stay Healthy and Happy – ONLINE
with Swami Vidyananda, E-RYT 500, C-IAYT and Special Guests
May 1 - 3, 2020
Gain all the benefits of Yoga and mindfulness with Gentle Chair Yoga, a helpful practice after injuries, if you've put on weight, or if you simply feel out of shape. It benefits people struggling with the symptoms of health conditions, such as high blood pressure, arthritis, depression, insomnia, fatigue, and chronic pain.
This weekend will also feature strategies to help deal with the stress of the COVID-19 pandemic. Chair Yoga can boost your immune system, help relieve anxiety, stress, and depression.
If you've tried a Yoga class and felt worse afterward, you may have given up on Yoga. With Gentle Chair Yoga, you're in for a treat!
With the aid of a chair, you will learn:
A balanced set of Chair Yoga poses plus options and variations
Easy breathing practices to boost immune function, for pain control and to uplift your mood
Simple tools for mindfulness, meditation, and relaxation
No getting down on the floor, no complicated movements, just increased resistance to illness, plus greater mobility, vitality, and peace. Now is the time to experience the benefits of Yoga for yourself.
Continuing Education (CE) Opportunities
Testimonials
The talks by Swami Vidyananda showed me new ways to look at things, and new ways to know the Divine!— Magda A.

I really enjoyed the organic flow of the program. Swami Vidyananda listened to the group and was more than happy to steer the direction of the conversation to the group's needs. It felt very personal.—Past Participant
Presenters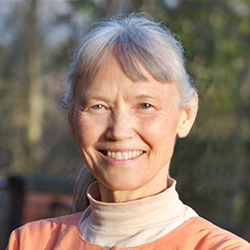 Swami Vidyananda, E-RYT 500, C-IAYT
Swami Vidyananda began practicing Yoga in 1969 and has been teaching Integral Yoga® and training Yoga teachers since 1973. She became a swami (monastic) in 1983. She has taught and trained Yoga and Stress Management teachers throughout the US and Canada, as well as Australia, Europe, and India. She presently lives at Satchidananda Ashram–Yogaville, VA, where she teaches all branches of Integral Yoga, including Hatha, Raja, and Jnana Yoga, meditation, and yogic lifestyle. She continues to travel widely, training Yoga teachers and offering workshops on meditation, stress management, Yoga and the emotions, and mid-life meaning. Before becoming a Yoga teacher,…
Learn more about Swami Vidyananda, E-RYT 500, C-IAYT