The Feng Shui of Yoga: Creating Harmonious Spaces
with Nitya Griffith, E-RYT 200, CRYT
February 28 - March 1, 2020
This workshop weaves together two ancient philosophies and lifestyle practices to create an incredible path for harmony, health, abundance, and well-being.
Nitya's personal, authentic approach will give you tangible insights you can apply to your own home and life for immediate results.
In this workshop, you will learn:
The philosophy of Yoga according to the Yoga Sutras of Patanjali
The foundations of Traditional Feng Shui and the 5 elements (Earth, Metal, Water, Wood, and Fire)
How to lay a harmonious floor plan
How to Create a Personal Sanctuary for your personal practice
Design tips on color, art, and fabrics
Feng Shui and Yoga can intertwine to bring vibrancy into your life and living space. To prepare for the workshop, bring a copy of the floor plan of your home. Use a compass and stand facing your home and note the degree your home faces. You will need this information too.
Be prepared to learn a lot, have fun, and be greatly inspired by Nitya's warmth, wisdom, and inspirational approach to teaching.
Continuing Education (CE) Opportunities
Testimonials
Nitya has proven to have a rare insight gift with her incredible knowledge of Feng Shui skills, enthusiasm and energy that has made an impact on my life. Nitya has improved my life not just professionally, but also personally as well. — Irene M.

I turned to Nitya Griffith over a decade ago at a time when nothing seemed to go right. The thought that our family home could be the culprit of our troubles had never occurred to me until she explained the principles of Feng Shui. After analyzing our home, she was able to provide our family with sound advice and a practice that set us on a course for healing that was felt almost immediately. Nitya continues to provide us with professional guidance and emotional support that's delivered with compassion. — Liz Finnegan
Presenter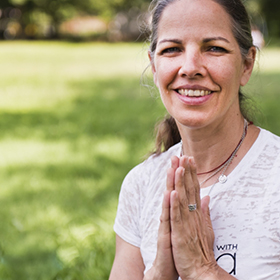 Nitya Griffith, E-RYT 200, CRYT
Nitya, the founder of Nitya Living™, has been an Integral Yoga teacher since 2005. She offers creative children's Yoga programs with asanas, meditation, mindfulness practices, and breathing practices through storytelling and original songs. Nitya has published the Yoga with Nitya Kid's Yoga DVD; the Satchidananda Ashram–Yogaville Coloring Book: A Child's Journey into Yoga; Yoga with Nitya Cookbook: Seasonal, Local, Vegetarian Meals for a Healthy Family; and her latest Musings from Mat: Inspirations and Poetry. See more at nityaliving.com
Learn more about Nitya Griffith, E-RYT 200, CRYT